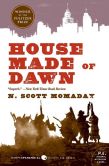 …I have seen it in a vision,
Seen the great canoe with pinions,
Seen the people with white faces,
Seen the coming of this bearded
People of the wooden vessel
From the regions of the morning.…

*****

I believe that the greatest threat to the survival of American Indians — more than the wars, the disease, the poverty, the discrimination, and the European occupation — is the removal of the spiritual matrix of traditional life, the theft of the sacred.
Henry Wadsworth Longfellow was born on this day in 1807, and N. Scott Momaday was born on this day in 1934. In Longfellow's Song of Hiawatha (first excerpt) the hero envisions that "The White Man's Foot" will stride across Native Indian land bringing Christianity, change, and promise. Momaday (second excerpt) predicts that "the theft of the sacred" will only be redressed if "American Indians, young people especially, are allowed to define themselves in terms of the spiritual values that inform their ancient heritage." Momaday's House Made of Dawn, a Pulitzer winner in 1969, is recognized as an early, important step in that direction.
---
Daybook is contributed by Steve King, who teaches in the English Department of Memorial University in St. John's, Newfoundland. His literary daybook began as a radio series syndicated nationally in Canada. He can be found online at todayinliterature.com.