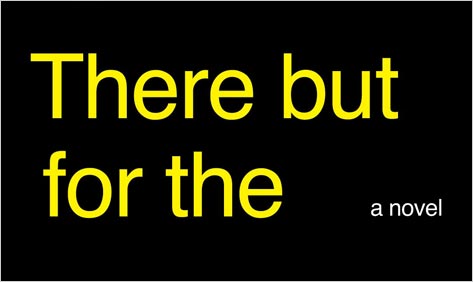 Some of the richest books for group discussion are like complex jigsaw puzzles in which the writer feeds us fragments of information before we understand how they fit into the whole. Often, they also withhold some of the pieces, leaving it up to the reader to supply the missing bits and snap everything gratifyingly into place to reveal the full picture.

This month's selection, Ali Smith's There but for the, is a good example of this narrative strategy, which not only keeps us on our toes but rewards the careful, active reader with unusually satisfying "aha" moments. Smith's novel shares with similarly constructed books a tendency to propel us back to the beginning once we've reached the conclusion. How did the writer pull off such a feat, we wonder? What did we miss the first time through? And make no mistake: it's easy for the hasty reader to overlook plenty — as I discovered in my book group's discussion of another novel of this type, Shirley Hazzard's The Transit of Venus (1980). In the opening pages of this beautiful heartbreaker about the role of chance in our life trajectories, Hazzard drops a seemingly offhand remark that one of her main characters will commit suicide years hence. Much later, she slips in another seemingly innocuous line that her heroine's eye doctor will die in a plane crash in a few months — a plane crash that ends up elucidating, without further need for explanation, that earlier-mentioned suicide. Several members of my group had passed over these subtle tip-offs as insignificant, and thus failed to understand the import of Hazzard's heroine being on the same flight as her eye doctor. The point is, writers as good as Hazzard — and Smith — rarely include gratuitous information.

Which brings us to There but for the — whose truncated title, by leaving out the implied conclusion of the phrase, "There but for the grace of God go I," tips off readers that they'll have some dot-connecting to do. Smith's exceedingly clever and subtly wrenching fifth novel opens with an initially mystifying little story about "a man sitting on an exercise bike in a spare room." Stick with it — and keep this preamble in mind, for you'll want to come back to it once you reach the end.

At the heart of There but for the is a dinner party guest who locks himself into his host's spare bedroom between the main course and dessert and refuses to come out — for months. His name is Miles Garth, and he's an "ethical consultant," helping firms to ensure their moral standing. Like J. D. Salinger's Seymour Glass, he's a gentle, playful soul who connects most readily with bright children who haven't yet been "onced by life." But he's also a man whose past tragedies — including childhood abuse hinted at in one of those barely noticeable passing remarks — have stayed with him, a man with perhaps too much heart to survive comfortably in a hard world. While Salinger's Seymour Glass blows out his brains in "A Perfect Day for Bananafish," Miles Garth retreats into the guest room of Genevieve and Eric Lee's suburban Greenwich, London townhouse and unwittingly becomes a cause célèbre, the epicenter of a supremely mockable media frenzy.

Structurally, Smith's novel is a marvel. Although she has interwoven multiple points of view before — including five female stream-of-consciousness voices in Hotel World — this time around, shifts in perspective are just disorienting enough to keep readers slightly off-balance. Spinning out from her tale of Miles's self-incarceration are obliquely related stories of four people who know him only glancingly, yet whose lives have been touched by his unusual kindness. Thirty years earlier, Miles reached out to desperately shy Anna Hardie during a European grand tour they both won in a teen writing contest. She's all but forgotten him, until the frantic Lees find her name in his cellphone. May Young, an elderly woman suffering from dementia, hasn't forgotten Miles because he's never forgotten her: she's heard from him every single year for more than three decades on the anniversary of her teenage daughter's death.

Mark Palmer is a more recent acquaintance of Miles: they met at an Old Vic production of Shakespeare during which a cellphone went off during the climax. Mark, a gay photo researcher mourning his longtime partner's death, asks Miles to the Lees' "annual alternative dinner party," their wincingly conscientious effort to expand beyond their usual ethnic and sexual circles. It turns out that Miles isn't gay, but he's vegetarian — a further inconvenience for his much-put-upon, unwilling long-term hosts.

Another unexpected guest on that hilariously awkward evening is "preternaturally articulate" nine-year-old Brooke Bayoude, brought along, to the hosts' consternation, by her professor parents. Like Salinger's Esmé, Brooke is a wonderful, precocious character — blessed, moreover, with some of the most appealing, loving parents in literature. Obsessed with history, the Greenwich Observatory, and what constitutes a fact, Brooke has her own troubles at school, partly because she's so different: She's black and much more clever than everyone, including her teachers. This enchanting punster forges a special connection with Miles and his friends and is a key element in the denouement of Smith's tale.

Much of the pleasure of There but for the lies in Smith's quirky, whimsical prose. A character's level of verbal playfulness provides a fairly accurate measure of how simpatico the author finds them, and in a book that, as its title suggests, celebrates the capacity for empathy ("There but for the grace of God go I") this is an important indicator. Brooke, who essentially resides atop "Mount Cleverest," calls Miles "an ethic cleanser" and puns from "artifact" to "arty-fact" and "Virtuoso" to "Virtue so-so." Miles, for his part, riffs on "Jabberwocky" — "Did google twitter in the blog" — while a baffled May observes that young people are always "on the intimate" and "It's not the coff that carries you off, it's the coffin they carry you offin." Smith also milks the satirical angles of reactions to what Gen Lee calls "oh you tea…Our Unwanted Tenant." But her overall aim is deeper and more complex.

There but for the revisits from a new perspective the theme of the stranger who comes to stay — also a feature of her 2005 novel, The Accidental. In addition, it expands her inquiry into "the fusion of the personal and historic," which factored into her last short story collection, The First Person and Other Stories (2008) — in the form of a young narrator who focuses on history to block out personal problems ("The History of History") and a grown woman who converses with her younger self ("Write").

I don't want to give away too much, but I can say that the emotional impact of There but for the hits us by stealth as the deftness of Smith's literary machinations become clearer to us. But this isn't to say that ambiguities don't remain. In fact, questions about Miles' motivations, "the point of human beings," and recognizing "what's real" and what's true are part of the book's design and, indeed, its power. In a section that turns the clichéd phrase "the fact is" into a kind of mantra about the insufficiency of any single "fact," Brooke charmingly reminds us that we are driven to understand the world but must accept its fundamental mystery: "It is important to know the stories and histories of things, even if all we know is that we don't know."

In addition to Shirley Hazzard's The Transit of Venus, mentioned above, three other favorite novels that engage us to read more actively and prompt us to circle back to their opening pages are Julian Barnes's The Sense of an Ending, Ian McEwan's Atonement, and Michael Cunningham's The Hours. All share concerns with time, memory, and history, and all succeed in gobsmacking even the most careful reader by pulling off surprising yet subtle epiphanies that illuminate not just their characters' lives but our own as well.