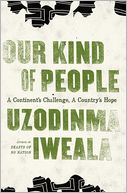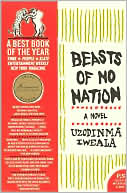 Dear Reader,
I was just one of the people dazzled by Uzodinma Iweala's debut Beasts of No Nation. This mesmerizing story of child soldiers in an unnamed African country, told in language with a spellbinding cadence, and published when Iweala was just 23, Beasts of No Nation received the Sue Kaufman Prize from the Academy of Arts and Letters, the Los Angeles Times Award, the New York Public Library Young Lions Award, and the 2005 Discover Award for Fiction."This is one of those rare occasions when you see a first novel and you think, This guy is going to be very, very good," said Salman Rushdie.
Iweala's second book, a nonfiction examination of the AIDS crisis in Nigeria called Our Kind of People: A Continent's Challenge, A Country's Hope is just out. I just had to ask him to talk about the difference between writing fiction and nonfiction, and this is what he said:
"I'm not certain why my first published book was a work of fiction. When I was younger, I read more nonfiction—historical accounts of war and biographies—than I read novels. There was something about real people and accounts of real situations that just seemed more relevant. There were facts to hold on to. There were tangible lessons on how to live life grounded in solid historical evidence. Moreover my young mind liked how the crispness of the matter-of-fact prose in nonfiction seemed to bolster the idea that what I held in my hands was indeed the truth.

And then I fell in love with Ben Okri's Booker Prize winning novel The Famished Road.

There was something so beautiful, so honest about the fluidity of his language that I hadn't really encountered in the nonfiction I normally read. I loved the way creative license allowed him to manipulate language to reflect the emotional states of his characters or the places they lived – all in the service of bringing us into a particular political and social moment in Nigeria's history. I remember trying so hard to write the way he did about my immediate world and growing steadily more frustrated when my factual accounts never achieved the beauty of his fictional constructions.

I have since become an exposed enough reader and hopefully a mature enough writer to realize that this dichotomy of truth in nonfiction and beauty in fiction is a false one, but I would be lying if I said that this distinction did not inform my approach to writing fiction and non-fiction today. When writing my first book, a novel about child soldiers, I felt freer to experiment with my characters, with my language, because there was no real reference point for their existences. Of course I did research on child soldiers, but the actual writing was unconstrained by a need to meticulously represent real situations. When writing my second book, a non-fiction work about HIV/AIDS in Nigeria, I struggled constantly with how to create a narrative that was at once true to the experiences of the people I interviewed and the situations I observed on the ground while still respecting my fundamental need to use beautiful language.

I choose to write both fiction and nonfiction because my own personal quest as a writer to meld these notions of truth and beauty drives me to do so. For me, writing in one genre enhances my ability to write in the other. Representing real people in my nonfiction helps me to create more catching characters in my fiction. The attention I pay to the structure and sound of narrative in my fiction helps me to better organize the story element of my nonfiction work. Most importantly, switching between the two forms is exercise. It helps keep my muscles in shape. I hope this translates into better writing all around.

To be honest, even if they matter in presentation of the final product, I don't know that the distinctions between fiction and nonfiction matter very much when it comes to my approach to writing. For me good writing is about good storytelling whether the events actually happened or whether they are the product of a ten-year-old boy's obsession with spaceships and aliens."
Cheers, Miwa
---

Miwa Messer is the Director of the Barnes & Noble Discover Great New Writers program, which was established in 1990 to highlight works of exceptional literary quality that might otherwise be overlooked in a crowded book marketplace. Titles chosen for the program are handpicked. by a select group of our booksellers four times a year. Click here for submission guidelines.