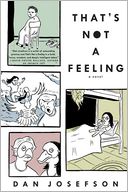 Dear Reader,
The Discover selection committee readers weren't the only ones impressed by Dan Josefson's debut, That's Not a Feeling – David Foster Wallace called it "bold, funny, mordant and deeply intelligent."
I've mentioned before that I have, hands down, the best job in the book business today – but Dan's day job comes a close second, as he explains in this guest post for the Discover blog.
This is A Great Job

A Guest Post by Dan Josefson

On the first day of my current job, I was given a quick tour of our offices, which were then in a high-rise near Wall Street that was typically nondescript, although the floor was covered with bright blue carpeting. I was then shown to my office, which had some filing cabinets, a chair, and a desk on which were piled two paperbacks: advance readers' copies of novels written for children. Each ARC was in a manila folder with a neatly printed label that identified the publisher of the novel, the publication date, and some other bits of relevant information. Then I was left to my work.

The company I work for helps school libraries develop their collections. As an editor there, I read books a year or so before they're published, and help find the best ones to order for the schools that subscribe to our lists.

Initially, I couldn't quite believe I just was supposed to sit down and spend the day reading. I walked quietly out of my office and peered into the other offices, where my fellow editors were sitting and reading quietly. So that's what I did. Through that first day and the following morning, I read those two books, summarized, and critiqued them. I still remember: one was about Victorian grave robbers stopped by a group of ne'er do well street urchins, the other was a World War II mystery, told by an older man who during the war was a plucky teenager running messages for the Dutch resistance.

Now, for me, this is a great job. Most people who work in publishing hardly get to read at all during work hours, taking their manuscripts home to read at night. But I just go into the office each morning, make coffee, and pick up where I left off in whatever novel or nonfiction work I'm currently working on. I've been doing that for about five years.

Of course, in that time what I've read has more or less hewn to Sturgeon's law, which posits that ninety percent of everything is, well, not very good. But the good stuff can be great, and even the bad stuff can be pretty entertaining. At worst, you begin to notice patterns and make lists. For example, Books involving subterranean tunnels; Books with characters who met while working on the school newspaper (one of my favorite subgenres); Wiccan practices in YA novels; or Ways to get parents out of the picture so that kids can go on adventures (I've found that the most popular is to make the parents archeologists—they are very far out of the way, and on their short visits home often leave behind haunted relics.)

I'm often asked about how reading all these books for children and young adults affects my writing, and I find that question extremely difficult to answer. There are some relatively obvious lessons I've taken: reading so many novels makes the formulas that so many adhere to easily recognizable, and I'm quickly bored when I find a novel rounding the same tired turns. On the flip side, I've experienced the delightful disorientation and surprise that comes when those formulas are subverted or avoided, and I know that's something I'm looking to do in my own work.

But on a deeper level, it seems to me that the things that influence my work most powerfully are the ones that I'm only vaguely aware of. Because the moment I'm conscious of someone else's work affecting mine, I'm already reasserting some degree of control over that influence. This is probably why the whole question leaves me grasping for answers.

There are authors whose work means a tremendous amount to me, but my work looks nothing like theirs. I learn from other writers mostly by example: their ambition, the risks they take, the way they balance humor and seriousness. And those qualities are just as likely to be present in literature for children and young adults as they are in literature generally—that is, not very likely at all. But the corollary to the idea that ninety percent of anything is awful is that ten percent isn't. And that's more than enough to provide plenty of encouragement. — Dan Josefson
Cheers, Miwa
---

Miwa Messer is the Director of the Barnes & Noble Discover Great New Writers program, which was established in 1990 to highlight works of exceptional literary quality that might otherwise be overlooked in a crowded book marketplace. Titles chosen for the program are handpicked by a select group of our booksellers four times a year. Click here for submission guidelines.