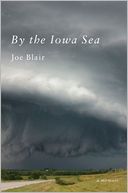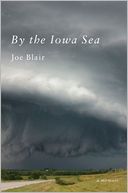 Dear Reader,
A faltering marriage, four children (one severely autistic), a job as a pipefitter, a mortgage: all markers of Joe Blair's life — none of which he expected when he was young. In vivid, muscular prose, Blair owns up to his mislaid plans and impulsive choices in his ultimately redemptive story, By the Iowa Sea, a Spring 2012 selection of the Discover Great New Writers program.
It's hard to chose a single scene from Blair's memoir, but we'll start here:
"Everything was new because our love was new and each place seemed like it was more beautiful that the one before. North Dakota was beautiful because it was so flat and clear and because we had never seen anything like it before. And no one could doubt the beauty of Minnesota, the deep pine forests and glacial lakes. But none of this prepared us for Iowa. Nothing was as beautiful as Iowa. In my art appreciation class at UMass Lowell, I remember thinking that Grant Wood must have smoked some powerful weed in order to paint landscapes the way he did, with his roly-poly hills and lollipop trees, I didn't know that such a landscape could exist. . . .We had no way of knowing how things would turn out. The four children. The diagnosis of autism for our third son, Michael. And everything thereafter. Going on and on. It's hard to believe, now, that anyone could inspire so much passion in me as Deb did when we were young. That two people could just get on a bike like that and go. Without jobs. Without much money. Without anything really. Except the desire to go."
Cheers, Miwa
---

Miwa Messer is the Director of the Barnes & Noble Discover Great New Writers program, which was established in 1990 to highlight works of exceptional literary quality that might otherwise be overlooked in a crowded book marketplace. Titles chosen for the program are handpicked by a select group of our booksellers four times a year. Click here for submission guidelines.