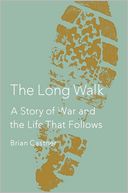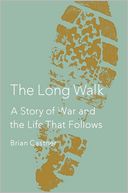 Dear Reader,
Brian Castner served three tours of duty in the Middle East, two of which saw him leading a bomb disposal team in Iraq — but recollecting that harrowing work is only half of his story. As Tobias Wolff did with In Pharaoh's Army, Castner's unflinching memoir, The Long Walk, illuminates his life before and after war. "The first thing you should know is that I'm Crazy," he writes.
Castner talks about his motivation behind writing The Long Walk and what he read before and after writing his own memoir, among other things, with Discover Great New Writers .
When did you first realize you wanted to get your experiences in combat and with PTSD down on paper? Had you written before?

I had written a little before, and in retrospect, I'm amazed it took me so long to realize that putting down my experience might help me deal with my mental health issues. Perhaps that says something about the depth of the hole one finds oneself in when trying to understand such a confusing and uncontrollable process. So in high school I wanted to be a writer, but I left that behind when I went to college to be an engineer for the Air Force. I wrote a little piece for Newsweek when I was getting out of the military, for their My Turn column they used to run. But it was only at my therapist's urging that I started writing notes when the Crazy episodes got so bad, and it took me several months of furious scribbling to realize I had the start of a book other people might want to read.

Did you keep a journal while you were in Iraq or after you came home?

I did keep a journal, but sporadically, and I always felt guilty that I didn't write more. My grandfather kept a journal on his march to Berlin in World War II, and I felt like I wanted to be able to give a similar thing to my own grandchildren. But I put it aside after I got back from Iraq the second time, and didn't open it up again until I was nearly done writing the book.

Did you read other war memoirs either before you went over to Iraq or once you came home? How did those books inform — or not inform — your own writing?

I am a big reader, and for a long time I only read military related books — my wife called it my War Shelf. I read Jarhead when it was released in 2003, and it struck a chord with me because it felt like my own experience in the Middle East. That was before I went to Iraq, and I had spent my time in Saudi Arabia mostly waiting for something to happen, much like Swofford. I didn't want my memoir to be subconsciously too informed or over-influenced by anyone else's, so I took a break from "war books" while I wrote mine. Since, I've read more, caught up a bit you could say, and find kinship more with Vietnam memoirs — O'Brien's The Things They Carried obviously, but also Larry Heinneman's Paco's Story and Haldeman's Forever War, which is a Vietnam book if there ever was one — than more modern examples. The exception is Junger's War. I am so grateful I only read it after I was done with the edits on my own book. It is so well crafted and definitive, I might never have started writing my book if I had read it first.

One of many remarkable aspects of your book is how riveting your descriptions of your PTSD are, literally taking the reader inside your heart and mind as you were experiencing it. How difficult was it for you to go back to that place, essentially experiencing those feelings again for the second time?

I experienced those feelings continuously while writing the book anyway, so I wasn't diving back in. Some of the events in the book, such as my son's hockey game, didn't even occur until I was three quarters of the way through writing the first draft. I was living the stories, it was my every day reality, so writing it or not was all the same, emotionally.

In the book, running and yoga were among the activities that helped you heal — both in body and mind. How important are those activities to you today?

Very important. I run about 15-18 miles a week. I do yoga every week. If I don't do either for a week or two at a time, I feel myself getting itchy, old feelings creep back in. I know my daily framework is fragile, and many veterans go through good and bad times, so I an diligent about the regular maintenance. It's just a part of my life now. It's how I'm built.

Has your wife read the book? Will you share the book with your sons once they are old enough to appreciate it?

I wouldn't let me wife read the book until I had an agent and we had sold it to Doubleday. She knew I was writing it obviously, but I didn't share it because I couldn't take it if she didn't like it. I was writing something so personal, any critique of the book would have been a critique of me, and our marriage (not to mention my mental state) wasn't in a strong enough place to handle that. She eventually read it in one sitting, and we had a long talk afterwards. In the later edits, we added just a little bit more of her to the book. I was uncomfortable speaking for her, or putting words in her mouth, so I avoided that until almost the very end.

I will let my sons read it, but not until they are much older. I don't know exactly when. But my motivation for writing the book, before I had an agent or publisher or let myself consider such wide distribution, was always to write the book for them, and if I never sold a single copy, I told myself I'd print one out and put it on the shelf and save it for them for later, to be able to point to it and share it and say, "This is why Dad is the way he is, and acted like he did when you were younger."

What's next for you?

I'd like to be a writer. I'm working on a new book now, related but distinct. I feel tremendously lucky and grateful that the sum of my life experiences have led me to a place where I could write one story that is meaningful to a variety of readers, and that if I work hard I might get another shot to do it again.

Who have you discovered lately?

I have rediscovered Mick Cochrane, a fellow Buffalonian and the author of several books, including his latest, The Girl Who Threw Butterflies. I have only met him recently, but he is an extremely gracious and encouraging man, and has become a fantastic mentor to me in a very short period of time. I just finished Flesh Wounds, his first novel, and it has a lot to teach a young writer about expressing emotional truth in an honest, non-gimmicky sort of way. Every page is pitch perfect and just feels right.
The Long Walk is on sale tomorrow, 7/10, and Castner's terrific essay about the limits he found in memoir as a genre is here in Publisher's Weekly.
Cheers, Miwa
---

Miwa Messer is the Director of the Barnes & Noble Discover Great New Writers program, which was established in 1990 to highlight works of exceptional literary quality that might otherwise be overlooked in a crowded book marketplace. Titles chosen for the program are handpicked. by a select group of our booksellers four times a year. Click here for submission guidelines.