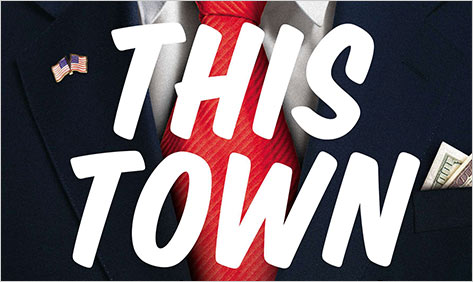 Here's how you pronounce the title of Mark Leibovich's book about the intersection of journalists, lobbyists, and politicians in Washington, D.C.: You roll your eyes, you let out a sigh, and then you say it — This Town. But you have to fake it a little, put a hint of a wink in the eye roll. That's because, as The New York Times Magazine national political correspondent explains, the locals who are prone to call D.C. "This Town" are beneficiaries of the very gridlocked culture they claim to lament. It's an important message. But it's one Leibovich delivers via layers of irony, which makes for homely, hokey, and only intermittently engrossing reading. Eye roll, sigh — this book.

The term commonly attached to This Town ahead of its publication was takedown. Politico, a publication that exemplifies the win-the-morning, who's-in-who's-out obsessiveness of covering the capital, launched a kind of preemptive strike three months ago, assuming (rightly) it would be one of Leibovich's main targets. The back of the dust jacket crows that the book doesn't have an index, so you'd have to actually read it to find out how you came out. Spoiler alert: You came out OK. Leibovich's book is more of a meta-takedown, so cynical about the power of takedowns — they'll just be worn as a badge of honor anyway — that Leibovich resigns himself to having a good time.

Which would be fine, if the stakes weren't so high in the current political environment, and if Leibovich's play-it-both-ways style didn't leave me feeling so whipsawed from self-canceling statements. Robert Allbritton, founder of Politico, isn't just a media magnate — he's "an emerging goofball of a media magnate." David Axelrod is a mensch — wait, a "kibitzing walrus of a mensch." Lawyer Robert Barnett, who's represented big-name operators on both sides of the aisle, is "the hardest working man in Showbiz for Ugly People" — a well-worn epithet for D.C. that Liebovich dismisses as a "dumb cliché" a few pages prior. Daily Caller founder Tucker Carlson is invoked as a meaningful commentator before Leibovich reminds us that he "appeared as a contestant on Dancing with the Stars several years ago." Late Meet the Press host Tim Russert is presented as an above-it-all presence in a city of strivers — that is, until Leibovich pauses to sniff at Russert's persona:" 'Rumpled' is always good for the brand here, and Tim had that nailed."

This go-away-a-little-closer posture doesn't apply to Leibovich himself, even though, as he reminds us, he's very much a part of the "spinning stew of human need"] he describes. Leibovich routinely mocks local party hostess Tammy Haddad as the "Tamster" (but nicely — he compares her to Marmaduke, a friendly dog!) and sleepless Politico Playbook author Mike Allen as "Mikey" (but nicely — David Broder had a messy office, too!). Yet Leibovich's dander is up when Allen calls him "Leibo" in Playbook: "I disliked being called 'Leibo' in print because it suggested a level of coziness and clubbiness that, while pervasive, I'd rather not be so easily pegged with — especially since I'm writing a book on just that." Watch it, Mikey!

This is all at the expense of Leibovich's skills as a journalist, which are formidable. Yet This Town only occasionally swings back to its ostensible reason for being: to explore D.C. as a town that has become increasingly clotted with former congresspersons and Obama administration functionaries who've become lobbyists or (in a determined effort to avoid that four-letter word) "consultants" or "advisors." "[A]lmost no one leaves here anymore," he writes, though details on the problem's pervasiveness are sparse: Corporate lobbying/consulting cash has tripled in the past dozen years, and while just 3 percent of retired congresspersons became lobbyists in 1974, nearly half of them do now. Leibovich potently exposes just how ugly this made This Town in the wake of the Gulf Coast BP spill, showing how lobbyists worked their conflict of interests after the disaster all the way to the bank. But Leibovich is mostly content to sketch aftereffects and crack wise.

It's an awkward feeling, being exasperated with This Town — I feel no urge to defend Politico or Tammy Haddad or Tucker Carlson. What grates is the kind of emotional and civic paralysis the book unwittingly reveals; beneath the jokes is a stifled cri de coeur about Washington, an exhaustion with the of the futility of straight talk in a stage-managed city. Leibovich praises Richard Ben Cramer's study of the 1988 presidential campaign, What It Takes, as "the kind of immersive and access-driven blowout that no politician would tolerate today." But he does it at the end of the book — telling you where the good stuff is up front wouldn't serve this book well.

Irony, it's said, is the song of the bird that's come to love its cage. To read This Town is to read Leibovich chirp often, enjoying the fests and galas while cultivating a critical distance toward them. Practically the only blow that lands clean is suffered by Patrick Gavin, a Politico journalist who videotapes local partygoers while asking them obsequious questions. As a reassertion of the pecking order in the world of D.C. correspondents, Leibovich's takedown of Gavin is a clear case of gnat-meets-cannon. But you get the feeling Leibovich will be nicer once Gavin starts hosting a few parties himself.