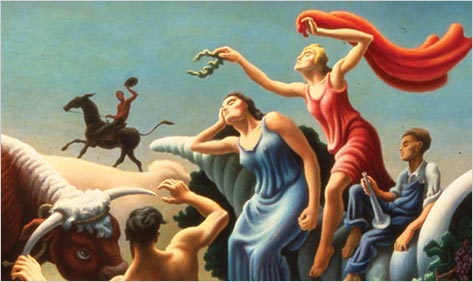 Artists' reputations rise and fall, but few have gyrated as wildly as that of the painter and muralist Thomas Hart Benton. In the 1930s he was acclaimed as the greatest artist in America, with his face on the cover of Time. Later he was ridiculed as a populist throwback, a stumbling block on the road to abstract expressionism. But recently scholars and curators have given the artist a second look — and have reread him as a critical component of American art history, not just a crowd-pleaser. This first biography of the painter, by Justin Wolff, continues the Benton revival. And among artists, he needs a biography more than most — for "Benton's art, as rich and dynamic as it may be, is not as paradoxical as the man was."
Benton may now be an emblem of populism, but he came from decidedly patrician stock. He was born in Missouri in 1889 and named after his uncle, Senator Thomas Hart Benton — who fought alongside Andrew Jackson in the War of 1812 and served six terms in the upper house, a western Democrat who opposed slavery from the beginning. The painter's father served in Congress too. Maecenas Benton, known as "the Colonel," was elected to the House when Tom was eight, and in Washington the boy saw paintings for the first time: not anything in the national museums, but the immense murals in the Library of Congress.
Benton had a glacial relationship with his father. "They only spoke to squabble," Wolff writes. "Tom was smug; the Colonel was unforgiving." It took years for young Benton to convince his family to let him study art, first at the School of the Art Institute of Chicago and later in Paris. In Chicago he took boxing classes, roughed up fellow students, and declared in his letters home that he was a born genius. But in Paris, where he met Gertrude Stein and much of the rest of the avant-garde, doubt set in. "I was merely a roughneck with a talent for fighting, perhaps, but not for painting," he later told an interviewer.
At thirty, Benton's career seemed stalled. He had moved to New York at the explosive birth of modernism, and the art world orbited around the twin poles of Marcel Duchamp (who lived in Benton's building) and Alfred Stieglitz (who, lamented Benton, advocated art with "no real function"). For an artist with more classical aspirations, he seemed not just out of place but reactionary, and this despite his serious commitment to Marxist theory. When he wasn't fighting with painters, such as his eternal bête noire Stuart Davis, he was fighting with lovers — one woman ended up stabbing him. It wasn't until the 1920s that Benton finally had his breakthrough: like his hero Tintoretto, he started making dioramas and painting from three-dimensional models, a practice he'd stick with to the end of his career. "He finally felt connected to a practical tradition," says Wolff, for Benton "never trusted that aesthetic innovation legitimized itself."
You can see the efficacy of those dioramas in his breakthrough painting People of Chilmark, a torrent of bodies in the surf, which is on view in Youth and Beauty: Art of the American Twenties, a spectacular exhibition now at the Dallas Museum of Art. But they come through even clearer in his murals, where his volumized figures obtain massive scale. His first murals, for the New School in New York, were done "in return for the price of the eggs" used in the tempera, but soon they were everywhere: in the state capitol of his home state of Missouri; in Harry Truman's library, where the former president called him "the best muralist in our country"; even in the Country Music Hall of Fame.
Benton was a bruiser, but in Wolff's hands he can seem positively tender at times. He was happily, passionately married (a double portrait of him and his wife Rita is also on view in Youth and Beauty), and his students idolized him — one in particular. Jackson Pollock left Wyoming at 18 to study under Benton in New York, and his relationship with his teacher progressed from love and emulation to codependence and, finally, a kind of Oedipal rejection. He was already drinking heavily in his student years, and Benton, Wolff acknowledges, "was not the best role model for the defiant Pollock." But he kept Pollock afloat in his early years in New York, helping him find work and inviting him to stay at his home in Martha's Vineyard. It didn't take long, though, until Pollock started showing up unannounced, empty bottle of gin in hand. At one point Benton had to bail him out of jail.
In 1940, grieving for a friend who'd just died, a drunken Pollock took a knife to most of his early work, slicing his Bentonesque canvases to scraps and tossing them out the window. The rest is history, if by "history" you mean the oversimplified view that Benton's regionalism was just a last gasp before a Pollock-led triumph of American abstraction. But Wolff's biography, like the exhibition Youth and Beauty, helps us see that art history is not a linear succession of avant-gardes, but a mess of personalities and ideas that can never be fully untangled. And at our current political and economic crossroads, when a populist impulse has roared back to life, we may finally be in a position to look at Benton with the same attention we've lavished on his most famous student.