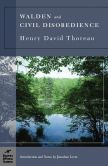 If the engine whistles, let it whistle till it is hoarse for its pains. If the bell rings, why should we run? We will consider what kind of music they are like. Let us settle ourselves, and work and wedge our feet downward through the mud and slush of opinion, and prejudice, and tradition, and delusion and appearance… through Paris and London, through New York and Boston and Concord, through church and state, through poetry and philosophy and religion, till we come to a hard bottom and rocks in place, which we can call reality, and say, This Is, and no mistake. . . .
–from Chapter Two of Henry David Thoreau's Walden; after two years, two months and two days, Thoreau left his cabin on this day in 1847, as defiant as ever: "I left the woods for as good a reason as I went there. Perhaps it seemed to me that I had several more lives to live, and could not spare any more time for that one."
---
Daybook is contributed by Steve King, who teaches in the English Department of Memorial University in St. John's, Newfoundland. His literary daybook began as a radio series syndicated nationally in Canada. He can be found online at todayinliterature.com.