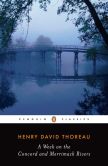 On this day in 1849, Henry David Thoreau's A Week on the Concord and Merrimack Rivers, his first book, was published. It describes a trip taken years earlier by Thoreau and his brother, in a boat they had made themselves, sleeping in a tent made from its sails, living on, as Emerson admiringly put it, "the fish of the stream and the berries of the wood." Bronson Alcott attributed the book's "sinewy vigor" to fresh air and diet, Thoreau's style "as picturesque and flowing as the streams he sails on," with a "strength that comes of feeding on wild meats, and the moist lustres of the fishes in the bed below." In fact, though they breathed "the free air of Unappropriated Land," the Thoreaus supplemented their diet with new potatoes and melons from their garden, and bought their bread, milk, and apple pies from farmhouses along the riverbanks.
Despite the endorsements of the famous Concordians, the book did not sell. Its critics praised the "roughing it" but objected to the scores of quotations from Sophocles, Chaucer, Tennyson, et al., along with large doses of Thoreau's own poetry, and his philosophizing upon the lot. One reader complained, "We were invited to a river party — not to be preached at." Another thought the book "a pudding into which the pantry has been dumped," and though "intended to convey outdoors to its readers, became perilously like a library of the shorter works of Henry Thoreau."
That Thoreau found it easier to live off the land than his readership is a good thing, as the failure of the Week caused a five-year delay in the publication of Walden, itself not much of a seller. The two books certainly share the same spirit, the following excerpt from the Week posing the question which his cabin retreat hoped to answer:
What, after all, does the practicalness of life amount to? The things immediate to be done are very trivial. I could postpone them all to hear the locust sing…. I would give all the wealth of the world, and all the deeds of all the heroes, for one true vision. But how can I communicate with the gods, who am a pencil-maker on the earth, and not be insane?
---
Daybook is contributed by Steve King, who teaches in the English Department of Memorial University in St. John's, Newfoundland. His literary daybook began as a radio series syndicated nationally in Canada. He can be found online at todayinliterature.com.