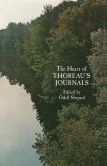 Twenty-year-old Henry David Thoreau began his journal on this day in 1837. He kept at it for the next quarter century — forty-seven manuscript volumes, regarded by some as his most important writing, being an invaluable record of both the inner man and his time. The journal contains reflections upon national and international events — the hanging of John Brown, for example — but we read mostly of the woods, the seasons, and Thoreau's daily comings and goings, all spiced with his large and small observations. In the entry of October 22, 1857, the twentieth anniversary of the journal's inception, we are advised to "Celebrate not the Garden of Eden, but your own":
Look from the high hill, just before sundown, over the pond. The mountains are a mere cold slate-color. But what a perfect crescent of mountains we have in our northwest horizon! Do we ever give thanks for it?… I look up northwest toward my mountains, as a farmer to his hill lot or rocky pasture from his door. I drive no cattle to Ipswich hills. I own no pasture for them there. My eyes it is alone that wander to those blue pastures, which no drought affects. They are my flocks and herds. See how they look…. Ah, I am content to dwell there and see the sun go down behind my mountain fence.
---
Daybook is contributed by Steve King, who teaches in the English Department of Memorial University in St. John's, Newfoundland. His literary daybook began as a radio series syndicated nationally in Canada. He can be found online at todayinliterature.com.