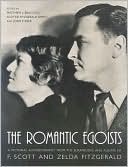 A monthlong exhibition of Zelda Fitzgerald's paintings, organized by her husband, Scott, opened in New York on this day in 1934. It was an event surrounded by the tangle of private and public tragedy that seemed to pursue the Fitzgeralds. Under inpatient treatment for her third mental breakdown, Zelda attended the exhibition opening with a nurse — her husband having assured her doctors that the overnight visit to New York would allow "no time to set up the old machinery of quarreling." One issue between them was her view that he had belittled or patronized all her artistic efforts and had reduced their relationship to that of caregiver-patient. One of her paintings, a Christ-like portrait of her husband, is titled Scott in Thorns.

James Thurber recalled that his one and only meeting with Fitzgerald occurred at the time of the painting exhibition. During the first stage of their nine-hour drink-about, Fitzgerald was "witty, forlorn, pathetic, romantic, worried, hopeful and despondent" and in a league of his own: "I should like to report that of the four or five eminent writers of the Crazy Decade with whom I have spent the night hours drinking, Scott was the best behaved, the least menacing, and the quietest, and he held his liquor better than any of the others."

The second stage of their night began at three a.m. — "the hour he made famous" — when Fitzgerald asked, "Do you know any good girl we could call on?" The third good girl was receptive, and in no time the elevator man was announcing "Mr. Fitzwater and Mr. Thurman to see you." But the visit did not culminate in sex or lobby handstands, and after a few hours of "tranquil conversation about a great many things," and then a one-hour cab ride through Central Park discussing Ring Lardner, Fitzgerald and Thurber went to their rooms in the Algonquin Hotel:
When I got up late that afternoon, I found that I had at least two-dozen catalogues of Zelda's show in my pockets. Later, when I talked to the good girl who had taken us in the night before, she said, "I have about ten catalogues of his wife's show. He kept handing them to me all the time."
---
Daybook is contributed by Steve King, who teaches in the English Department of Memorial University in St. John's, Newfoundland. His literary daybook began as a radio series syndicated nationally in Canada. He can be found online at todayinliterature.com.