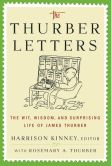 James Thurber's "The Secret Life of Walter Mitty" was published in The New Yorker on this day in 1939. "Mitty" became one of the most anthologized stories in American literature, its "ta-poketa-poketa" hero the archetype for dreamy, hapless Thurber Man. This was sometimes a source of pride for Thurber — he liked to tell anecdotes of U.S. airmen trading Mittyesque greetings while on their WWII missions — and sometimes an irritation:
The question I am most often asked is, "How did you happen to create a character like Walter Mitty?" I have been asked this question 934 times in the past ten years. I did not create Walter Mitty, he created himself. It is like asking me how I happened to think up my own species, masculine sex, and what in the world made me create the modern middle-aged male American…
The above is excerpted from a Thurber letter of April 13, 1961; writing a week later to Milton Greenstein, an executive at The New Yorker, Thurber suggests that "the best, most honest tribute" the magazine could give him as an obituary would simply be a reprinting of his most famous story, "with a brief note saying that I had requested it in my will." This comment, made just six months before his death, reflected a larger falling-out: many at the magazine upset with the frankness in Thurber's memoir, The Years with Ross, Thurber upset and incredulous that even E. B. White and other close friends had turned against him: "Never get into biography, it throws too harsh a light on the prevalence of lunacy." Thurber's letter to Greenstein, an attempt to forestall any platitudes or falseness in his obituary notice, was in a very un-Mitty tone:
I would not have changed a single word in [The Years with Ross], or in anything else I write, to please a mouse or a pussycat or a human being. We all have our credos, and that is mine.
Many of Thurber's letters over his last few years bristle with hell-in-a-handbasket complaints, whether directed at The New Yorker, his own physical and emotional health, or a Cold War world: "At dawn this morning I thought that a species living under the threat of obliteration is bound to produce obliterature."
---
Daybook is contributed by Steve King, who teaches in the English Department of Memorial University in St. John's, Newfoundland. His literary daybook began as a radio series syndicated nationally in Canada. He can be found online at todayinliterature.com.