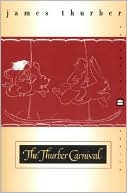 James Thurber was born on this day in 1894 — more accurately, as described in his preface to The Thurber Carnival,on this "night of wild portent and high wind in the year 1894, at 147 Parsons Avenue, Columbus, Ohio." The portents, says Thurber, were but fleeting, Mitty-ish things:
The house, which is still standing, bears no tablet or plaque of any description, and is never pointed out to visitors. Once Thurber's mother, walking past the place with an old lady from Fostoria, Ohio, said to her, "My son James was born in that house," to which the old lady, who was extremely deaf, replied, "Why, on the Tuesday morning train, unless my sister is worse." Mrs. Thurber let it go at that.
The birthplace has now been demolished, but the author's other Columbus home is now Thurber House, a museum and writing center. This year's winner of the museum's annual Thurber Prize for American Humor is David Rakoff's Half Empty, his third volume of essays. Rakoff's squinty worldview is pretty clear from his collection's glass-ometer title, or from some of the individual titles — "The Satisfying Crunch of Dreams Underfoot," for example. In one essay, Rakoff turns his wife's objection that he's become too negative into a challenge:
And so it came to pass, in a moment of dark recrimination, sick and tired of these Bartleby tendencies, and in want of a healthy dose of alacrity, hopefulness, and appetite, I lit out for the territories — a counterphobic campaign to see the handiwork of the men and women who said Yes.
"A Capacity for Wonder" goes on to report on the brimful American optimism represented by Innoventions (the Disneyland Dream Home), the Hollywood Walk of Fame, and Salt Lake City. From these "expeditions" Rakoff returns wondering only what they, what he, could have been thinking.
---
Daybook is contributed by Steve King, who teaches in the English Department of Memorial University in St. John's, Newfoundland. His literary daybook began as a radio series syndicated nationally in Canada. He can be found online at todayinliterature.com.