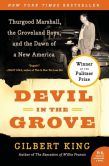 The NAACP was founded on this day in 1909 when a group of sixty prominent black and white citizens published what became known as The Call, aimed at provoking a renewed biracial commitment to the civil rights movement. As publication day for The Call was Lincoln's birthday, the document imagined the president returned to see that his Emancipation Proclamation had become ignored, contravened, or paid little more than lip service throughout America, with recent lynchings even in Lincoln's hometown of Springfield. "Silence under these conditions," warned The Call, "means tacit approval," and "Discrimination once permitted cannot be bridled."

Gilbert King's Devil in the Grove (Pulitzer, 2013) chronicles the crusading efforts of Thurgood Marshall, then a lawyer for the NAACP, to save the "Groveland Four," accused of rape in Lake County, Florida, and to save the dream of equality across the black South:
Southern juries might be stacked against blacks, and the judges might be biased, but Thurgood Marshall was demonstrating in case after case that their word was not the last…. He was "a lawyer that a white man would listen to" and a black man could trust. No wonder that across the South, in their darkest, most demoralizing hours, when falsely accused men sat in jails, when women and children stood before the ashy ruins of mob-torched homes, the spirits of black citizens would be lifted with two words whispered in defiance and hope: "Thurgood's coming."
---
Daybook is contributed by Steve King, who teaches in the English Department of Memorial University in St. John's, Newfoundland. His literary daybook began as a radio series syndicated nationally in Canada. He can be found online at todayinliterature.com.