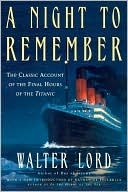 April 15:The Titanic went down ninety-nineyears ago today. Among the wave of books and events which will mark next year'scentennial is a "Memorial Cruise" aboard a luxury ship built by thesame company that built the Titanic.The twelve-day replication will feature the same food, music, and route,arriving at the same spot off the Newfoundland coast in time to commemorate theiceberg collision. (If you feel tempted to buy a ticket, you are in luck—thereare none left.)
Though polished by acentury of narratives, the tragedy retains its impact in the eyewitness records.One of the first published was an account dictated to the New York Times by the Titanic's twenty-two-year-old juniorwireless operator, Harold Bride. Published on April 19, 1912 under the headline"Thrilling Tale as Told by Titanic'sSurviving Wireless Man," Bride's description begins in humor, he and thesenior wireless operator cracking jokes about the mishap. Then the bow tilts,the "great scramble aft" begins, and Phillips, the senior man, beginshours of urgent messaging:
He was a brave man. Ilearned to love him that night, and I suddenly felt for him a great reverenceto see him standing there sticking to his work while everybody was ragingabout….
Bride tucks a greatcoat aroundhis boss to keep off the cold; he slides a lifebelt around him just in case; andwhile getting his money for him, "something happened I hate to tell about":
…I saw a stoker, orsomebody from below decks, leaning over Phillips from behind. He was too busyto notice what the man was doing. The man was slipping the lifebelt offPhillips's back. He was a big man, too. As you can see I am very small. I don'tknow what it was I got ahold of. I remembered in a flash the way Phillips hadclung on—how I had to fix that lifebelt in place because he was too busy to doit. …I suddenly felt a passion not to let that man die a decent sailor's death.I wished he might have stretched rope or walked a plank. I did my duty. I hopeI finished him. I don't know.
Then chaos: the Captain giving the "abandon ship," Phillipsrefusing to leave his post, Bride jumping, eventually being rescued, andhelping to hand up from the floor of his life-raft the body of a dead sailor—Phillips.
---
Daybook is contributed by Steve King, who teaches in the English Department of Memorial University in St. John's, Newfoundland. His literary daybook began as a radio series syndicated nationally in Canada. He can be found online at todayinliterature.com.