In his preface to the first edition of The Adventures of Tom Sawyer, Mark Twain says that Tom is a composite of three boys from hometown Hannibal, Tom's adventures those of his friends rather than his own. Most Twain biographers treat these statements as unreliable disclaimers, and proceed as if young Sam Clemens is Tom—until, having grown "from careless mischief to extreme unruliness" (Andrew Hoffman, Inventing Mark Twain), he is Huck.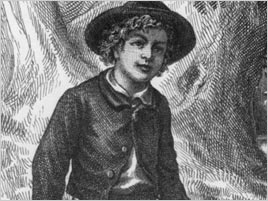 The anecdotal record, much of it sourced from Twain himself, describes 1840s Hannibal as an endless, barefoot summer. When Sam and the boys tired of the safer fun—crawling caves, hunting turtle eggs, snitching melons or smokes, playing injuns and pirates—they turned to dares and pranks, and to Sam for leadership. Among those tales reflecting his enjoyment of this role is the episode of the steamboat hull, Sam aged nine. As a Mississippi boom town, Hannibal began to manufacture steamboat hulls, the first ones launched into Bear Creek with some ceremony; having managed to stow aboard one, Sam appeared on deck as soon as it hit the water, waving to the crowd in pirate-pilot pride.
The Twain scholars say that Twain was "imprisoned in his boyhood," and compelled to retell it "in fiction, semi-fiction and purported fact." Even before the novel was published in 1876, Twain was at work on a theatrical version, and two sequel novels (Tom Sawyer Abroad and Tom Sawyer, Detective) were published in the 1890s. His notebooks are full of ideas for other sequels, a handful of these abandoned in first draft—the last of these, some 40,000 words long, written when Twain was almost seventy.
The scholars also find Tom, and the story of America, in two early companion tales, "The Story of the Bad Little Boy Who Didn't Come to Grief" (1865) and "The Story of the Good Little Boy Who Did Not Prosper" (1870). James, the BLB, doesn't get caught or care when he steals Father Acorn's apples, or goes fishing on Sunday, or gives the circus elephant a plug of tobacco, or whacks his sister in the head. Likewise, when Jacob, the GLB, helps up a blind man who has been pushed into the mud he gets nothing but boxed ears; when he befriends a stray dog, the dog rips the backside out of his pants; and when he befriends a pack of dogs which some BLBs (one named Tom) have tied together in the old foundry, each tail dragging an empty nitroglycerine can, he is apprehended as the culprit—whereupon he, the other boys, the dogs, and the old foundry are blasted across four townships.
Combining the unpunished BLB and the unrewarded GLB, and viewing the composite Tom-Huck as a riverboy-rascal with a heart of gold, we have the archetype for a nation:
The Good Bad Boy is, of course, America's vision of itself, crude and unruly in his beginnings, but endowed by his creator with an instinctive sense of what is right. (Leslie Fiedler, Love and Death in the American Novel)
---
Steve King contributes Daybook to the Barnes & Noble Review and teaches in the English Department of Memorial University in St. John's, Newfoundland. His literary daybook began as a radio series syndicated nationally in Canada. He can be found online at http://www.todayinliterature.com.