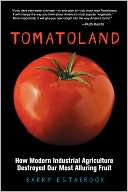 Reading Tomatoland, Barry Estabrook's hypnotic account of the modern tomato agribusiness and its outliers, one doesn't know whether to laugh or cry. Or, more precisely, alternating chapters provoke either tears or astonished guffaws. While we can chuckle at the thought of newly picked Franken-tomatoes falling off speeding trucks, hitting the pavement at 60 MPH and remaining pristine, accounts of hideous birth defects experienced by the children of migrant tomato-field workers exposed to dozens of toxic chemicals, and the slave-like conditions they labor under, is another meal of misery entirely.
To Estabrook's supreme credit, he blends these extremes so even-handedly, transitioning from comedy to tragedy to tell a unified story, that the reader is carried along smoothly without being whipsawed, existing in a tragicomic, slack-jawed suspension of judgment. Only emerging from the book does a general conclusion strike: the accumulated accidents of history have a way of simulating the actions of the insane.
How else to explain the bizarre lineaments of the tomato's history? From South American wild weed, bearing fruits the size of a pea, through a haphazard millennia-long breeding by pre-technological humans. Then discovery by Europeans, global dissemination not without its own weird kinks, and scientific hybridization. Finally, the establishment of a gigantic annual crop of tasteless, nutrition-free mutants in a land called Florida, the absolutely worst place to grow tomatoes—save for its proximity to the markets of the Northeast and its year-round heat. All this Estabrook chronicles in eminently readable, wry, bemused, yet journalistically sound fashion.
Aside from the history of the tomato and the horrors of capitalism, Estabrook also looks at modern-day science and organic alternatives to agribusiness. Three chapters toward the end of the book prove fascinating. "Matters of Taste" concerns John Warner Scott, inventor of the strain of tomato dubbed Tasti-Lee. Scott's long, patient odyssey toward producing something both enjoyable by humans and growable by farmers is a rare look into the laboratories and test beds of the small cadre of scientists seeking to improve the tomato's fate.
The chapter titled "Building a Better Tomato" focuses on Florida farmer Tom Beddard of Lady Moon Farms, who is intent on using organic methods in the middle of chemical wastelands. Also detailed are the efforts of his fellow citizens to improve the education and housing of workers.
But the penultimate chapter, "Tomatoman," is the biggest ray of sunshine, showing us how an accidental tomato grower named Tim Stark has come to do well by doing good, producing a superior tomato sold in New York City and raised amidst near-utopian conditions at his Eckerton farm.
If I left Estabrook's full-course banquet hungry, it was only in two areas. He briefly mentions canned tomatoes, but fails to explain why they are of superior quality (I think) to the uncooked commercial ones. And lastly—ketchup! Not a word about the ubiquitous condiment. Surely the immense demand for this french-fry topping has some impact on the cultivation of our "most alluring fruit."
---

Paul Di Filippo's column The Speculator appears monthly in the Barnes & Noble Review. He is the author of several acclaimed novels and story collections, including Fractal Paisleys, Little Doors, Neutrino Drag, and Fuzzy Dice.