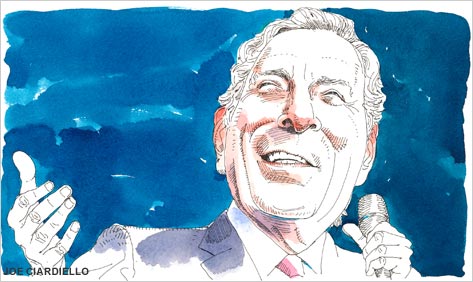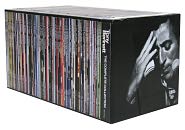 Released this week, Tony Bennett: The Complete Collection is a 76-disc set that spans more than sixty years, bringing to CD many classic performances that have long been out of print. It's an astonishing career retrospective, but it's also something more. Its hundreds upon hundreds of tracks constitute a high road through the landscape of American popular song that leaves, almost literally, no musical stone unturned. Following Bennett's progress as a singer is a journey filled with rhythm and melody, soulfulness and seriousness, intelligence and — not least of all — joy.
I spoke with the singer, who recently turned 85, by telephone in mid-October. What follows is an edited transcript of our conversation.
— James Mustich
James Mustich: How does it feel seeing all these records collected in one set?
Tony Bennett: Well, I love it. It takes me back to the beginning, when I came out of the service in France and Germany and, under the G.I. Bill, was able to join the American Theater Wing. The reason I mention that is because I had the best teachers that anybody could ever have. The American Theater Wing was so great, it became so great that it became the Actors Studio. I learned all about the stage and performing and what the stage is all about from someone who'd worked closely with Stanislavski. Pietro D'Andrea taught me bel canto, how to preserve my voice through the years. And then Mimi Spier was right on 52nd Street, the great jazz street, and she taught me never to imitate another singer, but rather to imitate instrumentalists and learn how they phrased. So I chose Art Tatum on the piano, because he had such mastery of tempo, and Stan Getz, who had a beautiful, warm, honey sound to his saxophone playing. I kind of acquired my own style by imitating those two people.
But the main thing is what I learned at the American Theater Wing — never to compromise, to only do quality. To stay away from anything that's going to be forgotten within ten weeks or so. So I was stayed with very, very good songs, like those written by Cole Porter and Gershwin, Johnny Mercer and Jerome Kern — very well-crafted, very good songs. Of course, a lot of times, they didn't sell right away [LAUGHS]. I've been recording for 60 years, and every decade I'd get about four hit songs, you know. Then the record company would feel that I was hot, and they'd say, "Go in and record," and I would record all those great composers. I had the best musicians, the best recording engineers, the best quality, the best sound, the best studios — very professional. We did more then seventy albums or so from 1950 till now, and they're all collected in this boxed set.
JM: That's a wonderful legacy.
TB: It is.
JM: It's such a marvelous survey of the American Songbook — perhaps the most comprehensive one there is.
TB: You know what? Everybody calls it the "American Songbook," but I call it the "Fred Astaire Songbook." Because Irving Berlin, George Gershwin, and Cole Porter — they insisted that they would never have anyone introduce their song except Fred Astaire. So "Begin the Beguine" and "Night and Day" and "They Can't Take That Away from Me" and "Embraceable You" and all these great songs — "One for My Baby" by Johnny Mercer and Harold Arlen — so many great songs were introduced by Fred Astaire, on Broadway and also in his films. To sell new things, the corporations will say those are the old songs. But they're not old; they're timeless.
We've given the whole world the greatest songs to love. I travel everywhere, in China and Australia and Europe, and they love all those songs completely. They know them. A lot of times in Europe, the audience starts singing them with me on the stage. We've given the world the greatest repertoire. You know, if you say to Sweden, "What's your big song that you've given to everybody?" — no one knows it. Germany, no one knows it. Even in Italy, even though they invented opera and all that — outside of "O Sole Mio," you don't know any of the popular songs that they've done. But we've given the world the greatest light entertainment in the world, which I am convinced will become known as America's classical music in about fifty years.
JM: Looking through the set, I've picked out a few tracks that I've loved through the years, because I thought it would be a good way to talk about your career.
TB: Okay.
JM: When I was a kid, my parents had a bar and grill, and it had a jukebox. I used to play E7 all the time, and it was your recording of "Just in Time." I was maybe eight or ten years old, and I loved your record of that tune. You made it when the song was new, right?
TB: Let me explain that. There was a period of time at Columbia Records when they wanted to get cast albums for the Broadway shows. I was selling a lot of records during that period, and it became quite an adventure for me, because they would tell the producers and the composers of the shows, "We'll get you a Tony Bennett hit if you give us your album." So Jule Styne did a wonderful hit show called Bells Are Ringing and in it was "Just in Time" — that was one of the songs that became famous.
Another one has a cute story; I think it would be interesting to you. When Kismet was on Broadway, there was a big newspaper strike. So the shows weren't getting reviews. So they were clever enough to have me record "Stranger in Paradise," based on the Borodin melody, six weeks before Kismet opened. On opening night, even though they didn't have reviews or advertisements from the newspapers, when the people came in to see the show, all of a sudden they hear "Stranger in Paradise" which they'd been hearing on the radio for six weeks, and they all started applauding. It made the show a hit.
JM: I didn't know that.
TB: It's been done with quite a few. "Put on a Happy Face" was another one. I did a lot of Cy Coleman songs, from shows the he and Carolyn Leigh wrote, like "The Best Is Yet to Come" and "It Amazes Me."
JM: One of the albums collected here, which I don't think has been available since vinyl, is a really great record: Hometown, My Town, from 1959.
TB: Oh, yeah.
JM: It has your marvelous performance of "Penthouse Serenade," a song written in the early 1930s.
TB: Right.
JM: How did you come to record that?
TB: As I said, I gravitate to good music, and that was always a favorite of mine. Hometown, My Town was a concept album about New York, about living in Manhattan. So "Penthouse Serenade" fit perfectly.
JM: Another album that I've always admired and that I've rediscovered in the set is The Rodgers and Hart Songbook, which you did with the Ruby Braff-George Barnes quartet.
TB: I love that one. I remember we did that one summer, down in Greenwich Village in a small studio. It was a joy to listen to those great musicians playing the wonderful Rodgers and Hart songs.
JM: When I was listening to it the other night I was reminded of one thing you often do that has become very rare. More than any other singer, you tend to include the verse when you perform a classic song. They're often gems in terms of the lyrics, like "The Lady Is a Tramp" — "She's wined and dined on mulligan stew and never wished for turkey, / As I hitched and hiked and grifted too, from Maine to Albuquerque."
TB: Right.
JM: Many people don't know the verses to songs they know by heart, but, as your versions show, the verse can set the scene so well.
TB: I thought it was so intelligent to actually set up a song with a great verse, so whenever I heard a verse that struck me I'd say, "We have to put this in also and surprise everybody." With a live audience, you sing the verse and it will sound interesting to everybody, but then all of a sudden you go into a tune they know — [SINGS] "Em-brace me, my sweet…"—and it gets applause right away. Everybody says, "Oh, that's where it came from." The verse really does set up a song — remember, most of the standards began in the theater.
JM: Another favorite of mine is from the first album you made with Bill Evans, the Leonard Bernstein song "Some Other Time," for the show Wonderful Town.
TB: Oh, I love that.
JM: It's a beautiful performance.
TB: When we did that album, it came out and very few people heard it. We did two albums with Bill Evans before he died. He's the biggest inspiration for every piano player I've ever met. To this day, they say, "All we do is study Bill Evans, to learn how to really play the piano." He was that competent.
And yet, because that first record I made with him was so well done, it took at least four or five years to find its audience. Then it seemed to happen all of a sudden. The first hint that it was going to become the most distinguished album I ever made was when we did a Christmas television show for Hallmark, in London, with the London Philharmonic. We were rehearsing, and at the first break five classical musicians came out of the orchestra with the Bill Evans album and said, "Could you please sign this album for me?" [LAUGHS] Now, whenever I meet highly intelligent people, they all say "That Bill Evans album is my favorite album," and I'm thrilled every time. Once again, it proves that when something is well done, it takes three to five years before people pick up on it, and then once they pick up on it, it becomes a standard.
That's the premise of my catalog — this complete set of recordings from 1950 to now. There's not one side that I'll wince if somebody hears it, or say to myself, "Oh my God, I hope they don't hear that record." They're all good. They're all the best musicians, the best songs, the best engineers. I just never wanted to cheat the public. I feel that way when I perform. I never want to insult the audience. If they were nice enough to come and see me, I want to respect them completely. I become their servant on the stage. I make sure that they are well-entertained and feel good. That's kept me very, very, you know, satisfied with my life. It's a joy to just do what I'm doing.
JM: Well, the joy sure comes through when you do it. Can we talk about a couple of Irving Berlin songs?
TB: Mmm-hmm.
JM: On your record, The Art of Excellence, from 1986, you do "I Got Lost in Her Arms," which is just a gem of a song.
TB: Oh, boy.
JM: Is that from Annie Get Your Gun?
TB: It is. It was written for a lady. But I changed the lyric, because it was personal with me. It's something that I felt, and I love the song so much. You know, Irving Berlin is Mister America. He wrote the greatest songs. In fact, just recently, I was at a Giants game in San Francisco, and sang "God Bless America," and the reviewer out there said he was so impressed with it, because the whole stadium started singing it with me. He said he felt that that "God Bless America" should really be the National Anthem.
JM: Do you carry a list of songs around with you, waiting for the right setting or album to put them on? How do you decide what songs to record for any given project?
TB: Each album, I try to create a concept of some sort. We did one album, for instance, The Beat of My Heart, with all the greatest drummers in America — great jazz drummers. A whole album with just great jazz drummers. To this day, choreographers and dancers run into me and say, "Boy, that Beat of My Heart album, we dance to it all the time."
We did a children's album, too. It was for little children, but we made sure that it wasn't filled with songs where you go, "Ga-ga, boo-boo…" I found intelligent songs for them to hear. The children that have heard that album just love it. The intelligence — they pick up on it.
I try to do different things. There's one album I did with all the Fred Astaire songs on it. Each album has a concept.
JM: There's a marvelous song on that one, I think it's called "You're All the World to Me."
TB: Oh, yeah. I love it. I love that song.
JM: It's such a pulsing song.
TB: That's originally from the movie with the trick photography where he danced on the side of the wall and up on the ceiling, and back down again. He was dancing to that song.
JM: Royal Wedding.
TB: Exactly.
JM: That's a beauty. It's a great performance of that. Is that by Burton?
TB: I'm not sure on that one. It's been so long ago that I recorded it. But it's a wonderful song.
JM: There are so many great albums in this set, but one of my favorites is one called Astoria, which is really structured like an autobiography in song.
TB: It is. I love Astoria. A lot of people don't realize it in Manhattan, but the people that make Manhattan work all live in Astoria, and there's not one skyscraper there. There are all two- and three-story buildings. [LAUGHS] They're the firemen, the secretaries, the young actors who are aspiring to become famous on Broadway, the doormen, the elevator operators. Everybody that makes Manhattan work — the majority of them live in Astoria. So I've always loved the neighborhood. In fact, my wife and I, we started a school there, which we named after my mentor and my favorite guy in the entertainment world: The Frank Sinatra School of Arts. In Astoria. From that, nothing but good things have happened. In Manhattan, we now present performing arts programs in 14 schools. The graduation rates are way up — 97%, 99%.
JM: That's impressive.
TB: I like staying with quality. It's not enough to make money. I like to make money, but I want to do it the right way.
JM: Another track on Astoria is "Speak Low," the Kurt Weill tune.
TB: Kurt Weill, yes, and Maxwell Anderson.
JM: You do that again on the new record, Duets 2, with Norah Jones, I think.
TB: And she did a beautiful job on that.
JM: When I heard the new version, I couldn't get the melody out of my head, so I was glad to go back and listen to the Astoria one.
TB: It really is a wonderful song. In fact, down the line, I still have a dream of doing a complete album of Kurt Weill songs.
JM: Do you know the song "One Life to Live"?
TB: I don't. That sounds wonderful. What a title.
JM: It's a great Kurt Weill song. I think you would love it. If you're going to do an album, make sure you find that one.
TB: I'm going to write that down right now. "One Life to Live." Funny enough, I know most of his songs, and I don't know that one.
JM: Teresa Stratas, the opera singer, did an album of Kurt Weill songs [The Unknown Kurt Weill] a long time ago, and I remember hearing her performance of "One Life to Live" in a record store, I think, and it's stuck with me all these years.
TB: I definitely will do it.
JM: Also on Astoria, you mix in a few new songs — a couple of them by Charles DeForest.
TB: Right. I love Charles DeForest. "When Do the Bells Ring for Me?"
JM: And then the last cut, "I've Come Home Again." Did you commission those with the autobiographical theme in mind?
TB: I did. I loved him, and my wife loved him, and we used to go to little piano bars around New York where he was performing, and we became great friends. One of the thrills of his life was my introducing his song at Carnegie Hall. He was so moved by it, he couldn't get over that I did that. It was one of the great times of my life.
JM: I have two more I want to ask you about, if you don't mind.
TB: Sure.
JM: On your Sinatra record, Perfectly Frank, "I'm Glad There Is You" is a real standout.
TB: Oh yeah.
JM: After I heard you sing it, I searched out Sinatra's recording of it, from the late '40s, which I didn't know. He sings it beautifully as well. It's such a gorgeous song.
TB: Well, you know, that was written by Jimmy Dorsey, Tommy Dorsey's brother. He was a very talented guy. And it has such an intelligent lyric. It kind of, in a very simple way, describes the meaning of life, the meaning of being civilized.
JM: That's very nicely put. The last one I want to ask you about is my favorite of all your records — one of my very favorite recordings of all time, in fact. It's the title cut from your 1964 record, When Lights Are Low. I believe Benny Carter wrote the music.
TB: Right.
JM: There's such beautiful interplay between you and the musicians on that track.
TB: That's Ralph Sharon on piano, yeah.
JM: The bass player and you converse so intimately, so musically. I could listen to it over and over again. I still do.
TB: I loved it. Ralph Sharon was my accompanist for many years. In fact, he's the one who discovered "I Left My Heart in San Francisco" for me, and we had no idea it was going to become my signature song through the years. He was just a perfect accompanist, and also a beautiful musician in his own right. Just listening to him play is spellbinding.
JM: I was going to close by asking you what you're going to do next, but I'm going to hope you really do that Kurt Weill album, because that's the one I'd really like to hear [LAUGHS].
TB: Well, the one that's going to come out, I don't know when, but after this box set, is going to be with Bill Charlap, and his wonderful wife Renee Rosnes — two magnificent pianists. We've done it already — it's all finished actually. It's the music of Jerome Kern.
JM: This has been a real pleasure. Thank you very much for your time.
TB: Well, thank you, and thanks for being so understanding about the repertoire. I appreciate it very much.
— October 19, 2011
Editor's Note: Click here to buy Tony Bennett: The Complete Collection. You can read Will Friedwald's review of the career retrospective here. Click here to browse music by Tony Bennett.