The plaything's the thing.
---
By A. A. Milne
Let's journey together again to The Hundred-Acre Wood and revel in the adventures of the bear "of very little brain," a very gentle soul, and a band of unforgettable friends. No family should miss the joy of reading aloud Milne's delightful scenes, which are subtly unfused with sly humor and wordplay. Age 5 and up.
---
Toys Go Out: Being the Adventures of a Knowledgeable Stingray, a Toughy Little Buffalo, and Someone Called Plastic
By Emily Jenkins, illustrated by Paul Zelinsky
In this more contemporary take on the notion that "the toys are really alive," a chatty cast of characters which doesn't conform to stereotypes takes center stage. StingRay is the favorite—she sleeps with the Little Girl— and Lumphy the stuffed buffalo worries a lot. But just what, or who, is the one called Plastic? Paul Zelinsky's pencil sketches render the scenes in toys'-eye-view, revealing none of the mystery that delightfully builds in this extraordinary drama of the ordinary world. Age 6 and up.
---
By Ann M. Martin and Laura Godwin, illustrated by Brian Selznick
There once was a family of dolls that lived in a dollhouse that was passed from generation to generation for a hundred years. When unobserved, the dolls could move and speak, have adventures, and even disappear. Annabelle Doll, forever eight years old, is nonetheless determined to find Aunt Sarah Doll, who went missing nearly a half-century ago. She gets some help when overhears her newest owner, Kate, talking about Nancy Drew. Great fun. Age 8 and up.
---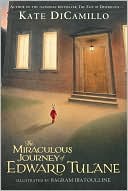 The Miraculous Journey of Edward Tulane
By Kate DiCamillo, illustrated by Bagram Ibatoulline
The celebrated and award-winning author of Because of Winn Dixie and The Tale of Desperaux begins this modern classic with a toy whose self-centered nature makes him an unlikely hero. Edward, a handsome china rabbit, experiences more than a few harrowing adventures as he is loved by a series of temporary owners — a fisherman and his wife, a hobo and his dog, an ailing little girl and her brother. Bagram Ibatoulline's paintings bring a shadowy beauty to this lovely that plumbs the heart's deepest attachments. Age 9 and up.
---
By Russel Hoban, illustrated by David Small
The mice of the title are toys: "a large one and a small one, who stood upright with outstretched arms and joined hands. They wore blue velveteen trousers and patent leather shoes, and they had glass-bead eyes, white thread whiskers, and black rubber tails." Together they dance when wound by a key, and together they pass through griefs, joys, and adventures that make this novel one of the most memorable books you are ever likely to read. The most recent edition boasts illustrations by Caldecott medalist David Small. Age 9 and up.