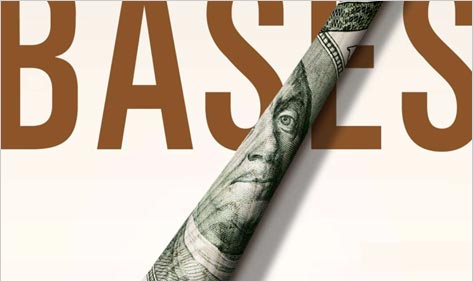 Even casual sports fans are inclined to gamble on occasion, most notably by filling out brackets for the NCAA men's basketball tournament. The tournament coincidentally comes to its conclusion right around the time that baseball, a sport that more people see as a romantic pastime than a gambling opportunity, is beginning its regular season.
But Joe Peta, a former Wall Street trader for Lehman Brothers, sees baseball as a romantic gambling investment — a distinct perspective that makes Trading Bases: A Story About Wall Street, Gambling, and Baseball (Not Necessarily in That Order) both an intriguing personal chronicle and a sophisticated investigation into the financial opportunities available to informed investors who want to gain an edge by betting on America's pastime.
In 2011 Peta broke his leg and was briefly confined to a wheelchair after he was hit by ambulance in New York City. Incapacitated and newly unemployed, he turned his attention to baseball, his favorite sport. He studied the latest advances in objective baseball analysis, looking to exploit disparities between his assessment of teams and players and those of the bookmakers who set the betting lines.
"The spreadsheets and the critical reasoning provided me with a perfect outlet to engage my mind, but numbers didn't drive my passion for baseball," writes Peta. That passion resulted in an innovative system that reflected the fact that the mechanics of baseball don't mesh easily with the way most sports betting happens — and finds an opportunity for classically American innovation.
Peta uses a combination of common sense and advanced baseball statistics (or sabermetrics) to explain why betting on baseball is a far superior choice to betting on football or basketball — both from a financial and an emotional perspective. He created a complex model for betting on individual games and team win totals during the 2011 season, and this yielded an impressive 41 percent return on his investment.
I turned to baseball-preview publications, various data-packed baseball-analysis websites, and the spreadsheets I began to build myself. Bringing together my love of trading and markets, models and sports betting, I decided to use the findings of baseball's "sabermetric" community to build a model that would beat the Las Vegas baseball line.
Legalized sports gambling is a $3.17 billion-a-year business in Nevada and reportedly represents just 5 percent of the worldwide betting that takes place via illegal sports books, office pools, Internet sites, and foreign markets. In the estimated $380 billion wagered annually, betting on football and basketball accounts for two-thirds of the action — 42 percent on football, 23 percent on basketball — while baseball accounts for just 18 percent.
These percentages are the result of flawed thinking, says Peta, because "baseball betting is a much better alternative." Sports books, he explains, use point spreads for football and basketball games, but not for baseball games. Consequently, a team could be winning in football and thus have no incentive to keep scoring points, which might put them at odds with the people who bet on them to win by a certain amount. This maddening proposition does not exist in baseball, where you're simply charged with picking a winner, and where a team will continue trying to win right till the final out.
Would you ever tie your financial interests to someone who didn't share the same incentives that get you paid? It would be like agreeing to be Adam Sandler's agent and getting paid by the Oscar nomination instead of a percentage of box-office gross. That's exactly what can happen when you bet basketball or football.
Peta says people are reluctant to bet on baseball because they don't understand how it works. Instead of point spreads, baseball typically uses "money lines." If the Yankees are playing the Mariners, and the money line is Yankees (-180) and Mariners (+165), a bettor would need to put down $180 on the Yankees to win $100 or $100 on the Mariners to win $165.
Trading Bases shifts between numbers-heavy chapters that explain concepts like these and sentimental sections that dwell on Peta's personal attachment to baseball; in particular, his love for the Philadelphia Phillies. The lighter chapters offer nice reprieves, but it's no surprise that most readers will be more interested in learning how money can be made by betting on baseball. The key, Peta writes, is in distinguishing which teams and players are lucky from those that possess repeatable skill sets.
Peta describes how he began his first the season with a set budget and separated his investments between betting on "futures" — or the season win totals of select teams — and individual games. The model required constant readjustments, depending on injuries, trades, and other factors. If a team or pitcher lost several games in a row, that was not a good reason to stop betting on them. It was important to look at the context of their performance — something bettors and Wall Street types often overlook. For instance, Peta notes that stock traders are commonly ranked by their overall profit-and-loss (P&L) returns, even though their bottom line might be overly affected by the performance of just one stock.
Peta argues that it's better to identify traders — and baseball players — who exhibit repeatable skills. A pitcher's win total, for instance, is not truly reflective of his overall value, since his ability to win games is greatly affected by his team's ability to score runs. But stable rates — for instance, a pitcher's strikeout and walk rates, as well as his ability to induce ground balls — go a long way towards predicting his future success.
Baseball teams, using the advances in statistical analytics developed via sabermetrics, identify skill sets. They know that it's the possession of specific skills that is the most reliable predictor of future results. They also know, therefore, which results are repeatable. Using P&L or a fund's return as the sole determinate to identify a desk's best trader or a fund's best portfolio manager, respectively, is as misleading as using wins to identify a team's best pitcher.
It's about looking at things in context, which is something financial institutions don't do nearly as well as the average baseball team, Peta writes.
Gambling has become more commonplace and acceptable in the United States in the last few decades; but people's understanding of how to gamble — and what to gamble on — has a ways to go. If you're going to be betting on sports, though, don't waste your money on the seventeen-week NFL season, according to Joe Peta. Baseball — now overshadowed by other pro sports — may seem to some like a relic of a previous era. But it just might be the future of gambling.