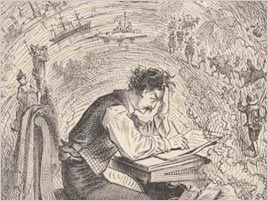 Mark Twain shaped his place in American Literature in the 1880s, a decade in which he published a handful of books in a range of genres, The Adventures of Huckleberry Finn and Life on the Mississippi most prominent among them. The decade began with the travel book A Tramp Abroad, this conceived as a money-maker aimed at the same readership which had made The Innocents Abroad a hit ten years earlier. Traveling by rail, raft, donkey cart and foot, the Tramp returns to some of the same places the Innocent visited in the first book. He also returns to Hannibal and the Mississippi, "The Author's Memories" (caption for the illustration shown here) providing the text with a Midwest American counterpoint to the hallowed stops on the European Tour. If Twain found the Tour trying he found writing about it worse, no doubt because he couldn't put his true feelings, expressed below in a letter to William Dean Howells, into it:
I hate travel, & I hate hotels, & I hate the opera, & I hate the Old Masters—in truth I don't ever seem to be in a good enough humor to satirize it; no, I want to stand up before [everything] & curse it, & foam at the mouth,—or take a club & pound it to rags & pulp.
There is grumpiness in A Tramp Abroad, though it is mostly cushioned by Twain's commentary and anecdotal asides. Among the 328 illustrations are a dozen by Twain himself, many in a whimsical, cartooning tone. For the book's frontispiece, he doctored a painting by Hippolyte Delaroche, "Moses in the Ark of Bulrushes," replacing the placid baby Moses in the original with a baby crying at the frog in her lap — presumably one jumped in from Calaveras County.
But Twain, according to one self-description, was "born irreverent," and still in a trampling mood. In the last chapter of A Tramp Abroad, reflecting upon the nakedness in the old paintings and sculptures, he had complained that while Art was still allowed to "deal freely with any subject, however revolting or indelicate," Literature had been handcuffed since Fielding and Smollet's day into "nice and guarded forms of speech … though we have plenty of foul subjects to deal with." The upshot, published anonymously in the same year he published his travel book, was 1601 — Conversation as it was by the Social Fireside in the Time of the Tudors. Among the conversationalists in this Rabelaisian pamphlet are Queen Elizabeth, Shakespeare and Ben Jonson; among the Merry Olde conversational topics are farting, erections and maidenheads, all disputed with friendly, four-letter vigor.
---
Steve King contributes Daybook to the Barnes & Noble Review and teaches in the English Department of Memorial University in St. John's, Newfoundland. His literary daybook began as a radio series syndicated nationally in Canada. He can be found online at http://www.todayinliterature.com.