Five journeys in a storied land.
---
By Tony Hawks
To win a bet, English songwriter/comic Hawks hitchhikes his way through Ireland while lugging a small fridge. He and his fridge become media darlings and meet everybody from kings to a surfer who takes the fridge for a ride. It's an improbably charming story that throws open a window into a warm and hilarious world.
---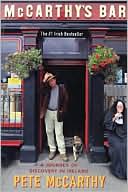 McCarthy's Bar: A Journey of Discovery in Ireland
By Pete McCarthy
McCarthy makes a thirst-quenching pilgrimage around the Emerald Isle, never passing a pub with his name on it without entering. Inside, he finds spellbinding storytellers, washed-up rock'n'rollers, tragic tales, author Frank McCourt, and an oral history of Ireland, all serving as delightful contrast to the tourist traps McCarthy tries (and sometimes fails) to avoid.
---
Around Ireland with a Pan: Food, Tales, and Recipes
By Éamonn Ó Catháin
Irish chef Ó Catháin won Best Local Cuisine cookbook from the Gourmand World Cookbook Awards for this book detailing Ireland's flourishing food culture, from its farmer's markets and organic meats to craft cheeses and 21st-century innovations. Ó Catháin smartly distills the evolution of Ireland's culinary culture and where it's headed.
---
By Kevin O'Hara
O'Hara, an American Vietnam vet (and psychiatric nurse), travels to his mother's homeland and ventures 1,800 miles of its roads with a donkey and cart, discovering along the way new parts of himself, dozens of indelible characters, and a country struggling to separate itself from its own past.
---
By J. M. Synge
Playwright Synge took the advice of his friend William Butler Yeats and spent a few summers hanging out in the myth-laden Aran Islands west of Galway. First published in 1907, his enthralling diaries reveal a world that was even then almost vanished — women in petticoats and fishermen eking out a living from the sea, telling stories of fairies and enchanted gold.