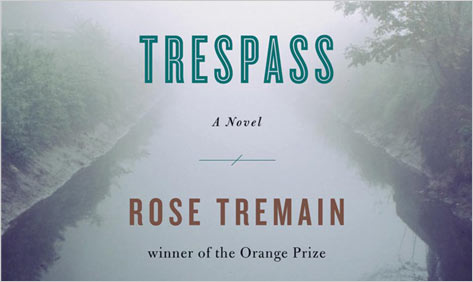 Globalization and economic dislocationprovided the circumstances for Rose Tremain's last novel, the Orange Prize-winningThe Road Home. That was the moving andultimately celebratory story of an economic immigrant toLondon, who had fled the destruction of the timber industry—and the collapse ofthe sole employer—in his native region of a former Eastern Bloc country. The dissolving effect of theglobal market on not only communities but the sanity of their inhabitants isbehind events in Trespass, Tremain's ingeniously wroughtnew novel, a story of two pairs of siblings and a nice, juicy murder.
Set insouthern France in the first decade of the present century, the novel is, inpart, a story of affluent international desire, of the will to possess thesubstance and beauty of the past: not only works of art, but dwellings andlandscapes themselves. One such place is Mas Lunel in the Cévennes,a stone farmhouse originally flanked by two extensions that sheltered farmanimals and silk worms. They have been torn down, sold off as roof tiles andstones. Absent their buttressing support, the house has developed a growingfissure—as emblematic as anything could be of the disintegrating effect ofdestroying a traditional economy.
The ownerof Mas Lunel lives there alone and in filth. He is Aramon Lunel, a slothfuldrunk who has, however, become suddenly animated by a real-estate agent'spromise that the house and surrounding terraced vineyard will fetch 450,000euros. While he revels in the idea of untold riches, his sister, Audrun, 64, livesan orderly if limited life in a jerry-built bungalow in sight of the house. Aterrible past of abuse by both her unsavory father and brother has culminatedin her being disinherited from her former home. Her brother's squalid existencerevolts and pains her, but his blackest sin, worse in her mind than his failureto feed his caged dogs, is his neglect of the house.
With thefissure plastered over to merely cosmetic effect, a potential buyer emerges inAnthony Verey, brother to Veronica Verey, a garden designer living in Francewithin sight of the Cévennes with her lover, Kitty, awater colorist. Anthony was once the leading antique dealer in London, but now,a jaded 64 years old, he feels diminished, just as, in his eyes, England is too:"It was as though the land had tired of the way its variety and complexitykept being ignored by man, and had decided to brand itself with just the few,dull species everybody would recognize. Fifty years from now, there would beonly blackbirds and gulls and stinging nettles and grass."
All Anthony really cares about noware a few of his antique artifacts and these he calls his beloveds. Foremost among them is an eighteenth-century Aubussontapestry depicting a group of stylish men and women lounging under the shade ofa tree attended by servants. But some mischievous needle worker of yore hashidden an old woman in the foliage at the edge of the tapestry; here shewatches the happy scene with a look of malevolence. This, you may gather, is anovel that is free with its portents.
Mas Lunelfills Anthony with desire: the house could be fixed up, its magnificent beamscleaned, a swimming pool added; it's perfect—but for the sight of Audrun'stacky bungalow. Sadly he reflects that "all the still-beautiful placeswere blighted by their nearness to some other thing you didn't wish to see orhear or have to think about. Audrun's feelings toward her brother becomepanicked hatred as he attempts to sell the house and raze her own, an eyesoreand deal breaker. Visions of murdering him dance in her head.
And thereare other murderous fantasies abroad. Anthony's reluctance to countenance theaesthetically unpleasing extends to his sister's lover, Kitty. She'sunprepossessing, a lousy painter, and he doesn't like her at all. The feelingis mutual. Neglected by Veronica when Anthony's around, Kitty contemplates thepossibilities of his accidental death.
An air ofobliviousness to one's trespasses, an ignorance that is in some cases a form ofinnocence, pervades this novel. These people, whose lives and charactersTremain conjures up with real deftness and dispatch, are acting in a world thatis increasingly unsatisfactory, economically and culturally, its materialsubstance undermined by economic forces, its history marketed as a commodity. Fora while it seemed a little curious to find the elements of a murder mysteryspliced into what is a sophisticated work of fiction; in the end, it isimmensely entertaining and ghoulishly satisfying.
---
KatherineA. Powers writes a literary column for the Boston Sunday Globe and writes about books and audiobooks in various othervenues.