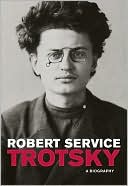 Leon Trotsky was fatally wounded in Mexico on this day in 1940—struck by an ice axe while reading—and died in hospital the next day. Saul Bellow was among those who stayed loyal to Trotsky during his years in exile and disfavor, which figure into the plot of The Adventures of Augie March. In "Marx at My Table," a 1993 newspaper article, Bellow reveals that his Trotsky phase began early and at home, "in the high-chair while eating my mashed potatoes." Growing up in the highly politicized immigrant communities of Chicago meant further exposure to Marxism and revolutionary politics, and by college "I was a Trotskyist." As literature took over, the politics faded, but "the glamour of the Revolution still cast its spell" in 1940, the year of Trotsky's assassination:
I was in Mexico at the time, and an acquaintance of the Old Man, a European lady whom I had met in Taxco, arranged a meeting. Trotsky agreed to receive my friend Herbert Passin and me in Coyoacan. It was on the morning of our appointment that he was struck down, and when we reached Mexico City we were met by the headlines. When we went to his villa we must have been taken for foreign journalists, and we were directed to the hospital. The emergency room was in disorder. We had only to ask for Trotsky. A door into a small room was opened for us and there we saw him. He had just died. A cone of bloody bandages was on his head. His cheeks, his nose, his beard, his throat were streaked with blood and with dried trickles of iodine.

He is reported to have said once that Stalin could kill him whenever he liked, and now we understood what a far-reaching power could do with us; how little it took to kill us, how slight a hold we, with our historical philosophies, our ideas, programmes, purposes, wills, had on the matter we were made of.
---
Daybook is contributed by Steve King, who teaches in the English Department of Memorial University in St. John's, Newfoundland. His literary daybook began as a radio series syndicated nationally in Canada. He can be found online at todayinliterature.com.