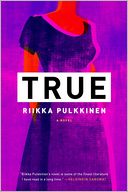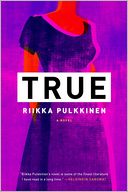 Dear Reader,
Translation is undeniably an art unto itself — Lydia Davis redeemed Madame Bovary for this reader — and I'm always curious to know what, exactly, attracts a translator to a particular book or author. I hadn't heard of Finnish sensation Riikka Pulkkinen until Other Press submitted galleys of her novel, True, to Discover, but dove in when the readers started coming back with rave reviews.
(As a teenager, I spent a summer in Finland — it was an amazing experience, but wrapping my head around the language was incredibly difficult, and I was never able to read Finnish well. To this day, the only phrase I can remember is, "Minä olen suuri Suomalainen." I'm a good Finn.)
This is what Lola had to say about translating True:
True in Any Language

By Lola Rogers


(Photo credit: Andrea J. Walker)




Riikka Pulkkinen is a young author, but has already established a substantial reputation in Finnish literature. Having read Raja, Pulkkinen's award-winning first novel, I was eager to read her second, and once I had read it, I was eager to translate it.

One reason that I wanted to translate True was because I feel that Pulkkinen describes human relationships in a way that is not that common in literature, with an almost meticulous accuracy. Ineffable grief, the intoxicating allure of a flirtation, the tenderness that a child inspires — all are described thought by thought and feeling by feeling, in language that is at times plainspoken and at other times lyrical, but absolutely believable throughout. The whole time I was translating the book, I found myself thinking, how can I write this in a way that feels completely honest? This fidelity to psychological truth is, I am sure, one reason the author titled the book True.

Another reason has to do with another kind of truth, with the complex interplay between reality, memory, and imagination in the book. Having learned that there are aspects of her family's past that have never been spoken about, Anna fills in the past in her imagination, creating a story within the story, and the lines between Anna's imagination, the memories of the older members of her family, and what "really" happened become blurred. Like many readers, I at first saw this aspect of the book merely as an interesting twist in an otherwise straightforward story, but as I read and translated the text this interplay between different versions of a story, the idea of the role of the storyteller, deepened and became the central aspect of the novel. I found myself pondering the nature of truth, pondering how important the stories we tell, to ourselves as well as to others, are in our lives. And also pondering how the story of True is one of them.
Lola also translated Purge by Sofi Oksanen.
Cheers, Miwa
---

Miwa Messer is the Director of the Barnes & Noble Discover Great New Writers program, which was established in 1990 to highlight works of exceptional literary quality that might otherwise be overlooked in a crowded book marketplace. Titles chosen for the program are handpicked by a select group of our booksellers four times a year. Click here for submission guidelines.