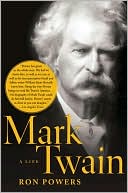 April 21: On this day in 1910 Mark Twain died at the age of seventy-four. Despite an undercurrent of disasters and dark thoughts, Twain swept along through his last years as the Mississippi to the sea: guests to his seventieth birthday banquet took home his foot-high bust, New York City pedestrians and English royalty lined up to meet him, thousands filed past his casket to see him in his last white suit.
The white suits began in 1906, and to some biographers they suggest more than a chuckle or another self-promotion. Twain liked to scrub his white hair every morning, and talk about dirt. His "Connecticut Yankee" hopes to bring social reform to King Arthur's England by introducing soap. His "Greeting from the Nineteenth Century to the Twentieth Century," published in the New York Herald at the end of 1900, urged the preach-and-plunder Age to come clean of "her soul full of meanness, her pocket full of boodle and her mouth full of pious hypocrisies. Give her the soap and a towel, but hide the looking-glass."
Twain's last decade was full of such zeal. "The jeremiad strain in his voice" (Hamlin Hill, in Mark Twain: God's Fool) could be heard in articles and dinner speeches on anything from pork-barrel politics to the age of sexual consent to his "Gospel of Self," entitled What is Man? Some readers complained that a platform built on humor was being used to soapbox. William Dean Howells wrote that he hated to see his friend "eating so many dinners and writing so few books." One letter from Twain's wife brought the point home; this begins gently enough — "Youth darling, have you forgotten your promise to me?" — but ends ominously: "You always dwell on the evil until those who live beside you are crushed to the earth and you seem almost like a monomaniac."
Most biographers stress Olivia's hysterical tendencies, though they also sympathize with anyone caught in the whirlwind of Twain's posturing and expostulating. During Olivia's protracted "neurasthenic" collapse over her last years, Twain was not allowed to visit her for months at a time. Similar conditions and shadows fall on his relationship with his two daughters throughout this last decade, and more than a few letters, diaries, and anecdotes show Twain shaking his head in grief, guilt, and puzzlement.
---
Daybook is contributed by Steve King, who teaches in the English Department of Memorial University in St. John's, Newfoundland. His literary daybook began as a radio series syndicated nationally in Canada. He can be found online at todayinliterature.com.