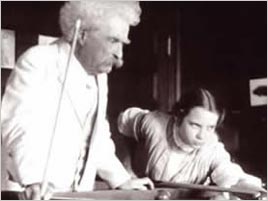 Young girls became such preferred society in Mark Twain's last years that he formed an "Aquarium Club," giving each member an "Angelfish" pin and a standing invitation to visit him at "Innocence at Home," the name he gave his Redding, Connecticut mansion in their honor (until his disapproving daughter, Clara, renamed it Stormfield). Twain explained these relationships innocently enough: he had "reached the grandfather stage of life without grandchildren," and had nothing but "a forlorn sea of banquets and speechmaking" to replenish his "dry and dusty" heart. He and his girls took tea at the Waldorf, or carriage rides in Central Park, and if an Angelfish could learn billiards, Twain's other remaining passion and comfort, all the better. Below, "Cushion First," one of Twain's last poems:
When all your days are dark with doubt,

And dying hope is at its worst;

When all life's balls are scattered wide,

With not a shot in sight, to left or right,

Don't give it up;

Advance your cue and shut your eyes,

And take the cushion first.
---

Apart from the biographers, among those who have raised eyebrows at Twain's Aquarium Club is Joyce Carol Oates. Her recent story, "Grandpa Clemens & Angelfish, 1906″ begins with a description of the sort of girls the Grandpa-Admiral liked to catch and not catch in his "fine-meshed net":
No gawky-gangly-goose girls. No fidgety-sulky girls. No smirking girls. No fat girls. No clumsy girls. No pushy girls. No mopey girls. No shrill girls but girls with voices soft as goose-feather down and yet girls whose laughter was innocent and spontaneous and thrilling as if they were being tickled by an old grandpa's fingers playing their narrow little rib cages like a xylophone.
And above all, girls who would not grow up: when his favorite in Oates's tale, Maddy, reaches sixteen, and when Maddy's mother learns of the "Secret Place" meetings between her daughter and Grandpa Clemens, the story descends into rejection, blackmail, and an ambiguously creepy Turn of the Screw ending.
---
Steve King contributes Daybook to the Barnes & Noble Review and teaches in the English Department of Memorial University in St. John's, Newfoundland. His literary daybook began as a radio series syndicated nationally in Canada. He can be found online at http://www.todayinliterature.com.