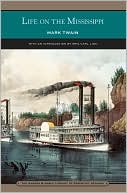 After an eighteen-month apprenticeship, Samuel Clemens received his steamboat pilot's license on this day in 1859, making good on his and every Hannibal river boy's pipe dream:
We had transient ambitions of other sorts, but they were only transient. When a circus came and went, it left us all burning to become clowns; the first negro minstrel show that came to our section left us all suffering to try that kind of life; now and then we had a hope that if we lived and were good, God would permit us to be pirates. These ambitions faded out, each in its turn; but the ambition to be a steamboatman always remained. (Life on the Mississippi)
He stayed on the river for two years, until the outbreak of the Civil War. By war's end he was heading down a different career path as Mark Twain, one that would build upon the sort of Mississippi River romanticism reflected in this 1866 letter:
All men — kings & serfs alike — are slaves to other men & to circumstance — save alone, the pilot…. [T]he only real, independent & genuine gentlemen in the world go quietly up and down the Mississippi river, asking no homage of any one, seeking no popularity, no notoriety, & not caring a damn whether school keeps or not.
Lee Sandlin's Wicked River: The Mississippi When It Last Ran Wild (2010) uses the library of memoirs written before Twain to document the decidedly unromantic reality of antebellum river life — storm- or crime-wrecked towns, death by accident or design, orderly living disrupted by some demimonde or river devil. In this last category, one Mike Fink, "a helliferocious fellow" become legend for "his wild freaks and daredevil sprees" and float-by shootings:
In the archetypical Fink story, he was floating down the Mississippi in a keelboat when he picked up his rifle for no reason at all and shot at somebody onshore. His target might be an Indian brave on a hilltop, or a slave boy carrying a bucket along a plantation road. In an instant, the victim would have his earlobe sliced off by the bullet, or a spur on his heel blasted away with surgical precision. Fink's boat glided on; before the victim or the bystanders could react, Fink was around the river bend, leaving nothing behind but the sound of his laughter."
---
Daybook is contributed by Steve King, who teaches in the English Department of Memorial University in St. John's, Newfoundland. His literary daybook began as a radio series syndicated nationally in Canada. He can be found online at todayinliterature.com.