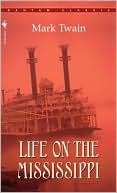 May 12: On this day in 1883 Mark Twain's Life on the Mississippi was published. Twain says that his career as a river-boat pilot began in the mid-1850s, inspired by innocence and circumstance: "I made up my mind that I would go to the head-waters of the Amazon and collect coca and trade in it and make a fortune…. When I got to New Orleans I inquired about ships leaving for Para and discovered that there weren't any and learned that there probably wouldn't be any during that century." Lacking alternatives, he signed on as an apprentice with Horace Bixby, the pilot who had brought him to New Orleans.
A quarter-century later, for nostalgia and to gather material for Life on the Mississippi, Twain arranged to travel upriver once again with Bixby. Soon after boarding, he found his way to the pilot-house, introducing himself to the pilot on watch as a curious tourist. The pilot welcomed his guest and, in time-honored fashion, began to pull his leg, topping things off with this equivalent to Twain's own jumping-frog:
Once, when an odd-looking craft, with a vast coal-scuttle slanting aloft on the end of a beam, was steaming by in the distance, he indifferently drew attention to it, as one might to an object grown wearisome through familiarity, and observed that it was an "alligator boat."

"An alligator boat? What's it for?"

"To dredge out alligators with."

"Are they so thick as to be troublesome?"

"Well, not now, because the Government keeps them down. But they used to be…."

"Did they actually impede navigation?"

"Years ago, yes, in very low water; there was hardly a trip, then, that we didn't get aground on alligators."
The pilot then addressed his guest by his real name, gave him the wheel, and called him out: "YOU take her and lie a while — you're handier at it than I am. Trying to play yourself for a stranger and an innocent! — why, I knew you before you had spoken seven words…."
---
Daybook is contributed by Steve King, who teaches in the English Department of Memorial University in St. John's, Newfoundland. His literary daybook began as a radio series syndicated nationally in Canada. He can be found online at todayinliterature.com.