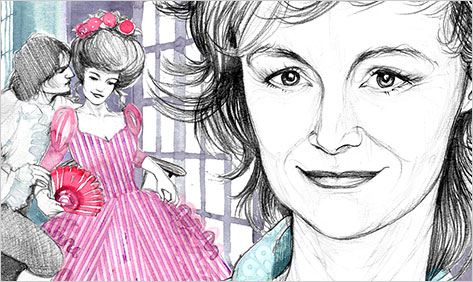 A favorite game of authors from Shakespeare to Christopher Moore is to steal a plot and transform it in their own image. Think of Hamlet: Shakespeare picked up a play about a revengeful prince—and made the poor bloke fat, short of breath, and unable to make up his mind. Hamlet's girth may well reflect that of Shakespeare's lead actor rather than the Bard's own, but the prince's pesky habit of over-thinking things is reflective, I would argue, of the fact there was only one wicked uncle and five long acts to get rid of him. In short: Hamlet's famous uncertainty stemmed, at least partially, from a problem in the original plot the playwright needed to solve.
When I decided to write A Kiss at Midnight, my own version of Cinderella, I too had a major problem to tackle: why on earth did Cinderella hang around the fireplace, taking abuse from her stepmother? Either she was severely emotionally abused—in which case she needed a therapist, not a prince—or I had to change up the main character, à la Hamlet (who also needed a therapist, but enough about him). Kate, the heroine of A Kiss at Midnight, is no wilting lily, waiting to be rescued by a shoe-obsessed royal. Instead, she's a woman who made difficult choices for all the right reasons. And the prince needed some work, too: I expect more of my heroes than a rash decision to marry some girl—any girl—he meets at a ball. So in my tale, the prince is betrothed to a Russian princess with a hefty dowry; in fact, in order to win Cinderella's tiny foot in marriage, he'll have to sacrifice everything that makes him royal—including, perhaps, his castle. Rewriting a classic, well-known plot is like an elaborate game of chess. While each piece has certain restrictions, the game turns out differently every single time. The pleasure for an author is discovering changes that speak to concerns of her own time, while still resonating with the most crucial themes of the original.
Lisa Kleypas's Love in the Afternoon transforms the erstwhile lover, Cyrano de Bergerac—he who writes love letters to the beautiful Roxane on behalf of an ignorant friend—into an odd, animal-loving young woman from the 1700s. Miss Beatrix Hathaway has claims to the title of lady, but no ambitions; as Christopher Phelon once said disdainfully of her (within her hearing, naturally), she is more suited to the stables than the drawing room. Yet when her friend Prudence, a reigning beauty, announces that writing letters to Christopher, now fighting in the Crimea, is more tedium than she can bear, Beatrix picks up her pen. She writes letters about wayward donkeys and rapscallion dogs; Christopher writes back with wrenching, heart-broken stories of war. Kleypas transforms Cyrano's reputation as a swordsman to Christopher's reputation as a war hero. But she tackles a reality that Edmund Rostand, Cyrano's creator, avoids: the ability to kill is a devastating accomplishment. Kleypas's Christopher is haunted by the men who died at his hands, and he must find Beatrix—his true letter-writer—in order to recover his balance and his soul. Love in the Afternoon is a beautifully wrought version of this classic tale; on the surface, it takes an unhappy ending and makes it joyous, but just as importantly, it picks up an aspect of the swashbuckling hero and makes it relevant to our time, to a country presently at war.
Kathryne Kennedy's My Unfair Lady is a rollicking version of George Bernard Shaw's Pygmalion, filtered through the musical version, My Fair Lady. The novel pits a carelessly cruel and sophisticated English rake against an energetic young American heiress. Summer Wine Lee grew up on the American frontier; she wears a knife strapped to her thigh, has seen a man scalped, and is followed by a miscellaneous pack of animals. In Shaw's play, Professor Higgins takes on Eliza as the result of a bet between himself and a friend, but Kennedy changes the hero's motivation: Byron, Duke of Monchester, agrees to turn Summer into a polished young lady in return for a third interest in a railway. That monetary arrangement, together with the fact that Summer is rich and the duke is poor, changes the balance of the original pairing. Summer (aka Eliza) is no longer a powerless flower-seller transformed by the beneficent professor, but a powerful woman in her own right. He has birth; she has cash: which holds more weight? This is a fascinating rewrite, keeping Pygmalion's winsome outlines while focusing on a situation extremely relevant to 21st-century America: the permeable boundaries of class when great wealth is a factor.
I'll end with Sherri Browning Erwin's mash-up of Jane Eyre, Jane Slayre. Erwin's novel splices Charlotte Brontë's novel with her own, leading to dual authorship on the title page. The novel doesn't obviously reflect contemporary society, given that Erwin's Jane grows up in a family of vampyres (those terrible Reeds) and finds herself at the zombie-ridden Lowood School, where destroying zombies is a skill more vital than stitching long seams. But this is no simple mockery of the original novel, along the lines of Pride and Prejudice and Zombies. Brontë's paranormal touch, in which Jane hears Rochester calling her name, is transformed here into a more exotic brand of magic. By giving Jane the ability to defend herself against vampyres and zombies, Erwin upends the rampant sentimentality of the original novel. She gives Jane's moral view of the world—the ethical stance that made her desert Rochester once she found out he was married—tangible essence. Good and evil do not reside merely in traits and ethical choices, but are manifested in physical forms. Jane becomes a more vital and independent heroine because she possesses a skill that Rochester desperately needs. When she returns to his side, she literally saves his life. "Reader, I married him" transforms delightfully to "Reader, I buried him."
In all of these novels, reading is a meta-pleasure, in which one measures the original against the reinvention. I would argue that romance is particularly suited to this sort of rewriting. Because the genre demands such a structured outline, authors are accustomed to mixing expectation with innovation. Making Cinderella independent and Cyrano a woman, Eliza a millionaire and Jane a killer, puts our heroines in the vein of the fat and breathless Hamlet. And like Shakespeare's audience, who had already heard a ghost calling for revenge, readers of these novels will delight not only in the plot, but in its variations, too.
---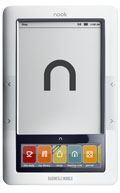 A Romantic Reads Giveaway from Eloisa James and Harper Collins
Exciting news for fans of Eloisa James – Harper Collins (the publishers of A Kiss at Midnight and other Eloisa James novels) are offering a special giveaway — two readers will be the recipients of the Nook, Barnes & Noble's eBook reader.
Click here to visit Eloisa's website for more details, or you can enter via Eloisa's Facebook page.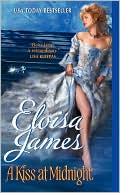 Please stop in to join our scintillating conversation about romances and chat with Eloisa James in the Romantic Reads Book Club. And please do check out Eloisa's past columns in the Archives, and if you'd like to get her reaction to romances as she reads them, follow her on Facebook or Twitter. If you'd like a peek at Eloisa's own romances, please visit her web site at www.eloisajames.com.
And don't forget the Barnes & Noble daily romance blog, Heart to Heart, where readers chat about the hottest news in the world of romance, from favorite authors to scorching love scenes.
Eloisa James's new novel A Kiss at Midnight is now available in paperback and eBook editions.