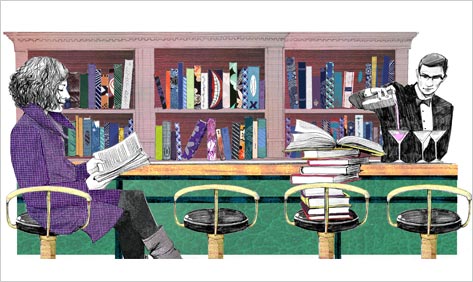 The party was set for Thursday, and someone invited the wrong Judy. We wanted the funny Judy with the drinking problem. Someone invited the other Judy, who was nice enough, but not the kind of Judy you'd want at a Thursday night party. When she arrived at the door, we tried our best to hide our disappointment. We looked at each other wondering, who invited this Judy? We took her coat and offered her a beer, but Judy was on a cleanse. She was always cleansing, and it made us feel oily, fleshy, questionable. Oh, Judy, someone mumbled.
"So glad you were free tonight!" one of the girls said, pushing some energy through the point of her exclamation.
"To be honest, I'm not usually available on Thursdays," Judy said. "It was great that you gave so much notice."
This wasn't true. Judy was available all week, every week, which is partly why we didn't care for her. But it made us think about our own Judy, sitting at home, keeping her Thursday night free for us. Could we invite her last minute? Was that kosher? Someone excused himself and went to go dial her. But he dialed the wrong Judy, again, and Judy's phone started buzzing in the living room, in her purse. She answered it, confused, and looked at us.
"Hey now, is this a party game?" she asked.
We paused, then said: "Yes!"
"How do you play?"
The other Judy would not have asked such a doltish question. She would have pretended to know the game, or invented the rules for us, smoothed over our awkwardness with a jump in place and a jog around the room.
For a second, we could see the current Judy register our discouragement, and maybe she sensed that she wasn't our first choice, was not what we had hoped for. It must be a terrible feeling, to be the wrong Judy, and to know it. Someone thought of this, and offered her the best red bowl of corn chips. She reminded us about her cleanse, but this time, we weren't quite as annoyed. Maybe we could grow into this Judy, we thought. Like a formal suit or a gym membership. Someone sat next to her on the couch. Maybe she'd even start to prefer us. Maybe we could shape ourselves into the right kind of crowd for the wrong kind of Judy.
It's true, we were all so much younger then. None of us were the best versions of ourselves, not even first thing in the morning. Not even the Judys were the Judys they hoped they would be.
Hilary Leichter's fiction has appeared in n+1, Tin House, The Kenyon Review, VICE Magazine, and elsewhere. She is currently on a bacon cleanse, but is pretty sure she's doing it wrong.