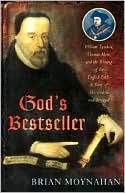 October 4: Onthis day in 1535, the first complete English Bible was printed, usingtranslations by William Tyndale and his disciple, Miles Coverdale. Tyndale wasin confinement in England when the first copies of his Bible rolled off thepress in Europe, finally captured by those authorities who had condemned as acapital crime his mission to bring a pocket-size Bible within reach of every"boye that dryveth the plough."
On dramatic grounds alone, the story of Tyndale's Bible is acompelling one; when the relatively unknown and thoroughly outcast martyr isplaced against the larger Reformation canvas—Henry VIII's two-step with AnneBoleyn and the Church, the jockeying and unseating of Sir Thomas More, and theimpact of the printing press—it offers an intriguing perspective on 16th-centuryEngland.
By early 1526, Tyndale had published his translation of theNew Testament, at his own cost. It and pirate editions circulated widely enoughthat by the summer of 1528 there was an English warrant out for the supposedheretic-author of this "pestiferous and most pernicious poison." Forthe next seven years, as he worked on revising his New Testament and completinghis translation of the Old, Tyndale used disguises, aliases, and frequentrelocations to stay one step ahead of all the lawmen, spies, bounty-hunters,and double-dealers trying to find him.
According to Brian Moynahan's God's Bestseller (2003), the pivotal figure in Tyndale's capturewas Sir Thomas More, who regarded the heretic Tyndale as the worst"hell-hound in the kennel of the devil." Tyndale despised people likeMore on two principles: as eminent Catholics they propped up a corrupt Church,and as learned scholars they spoiled the Bible, ruining the narrative poetrywith "anagogical and chopologicall" nonsense. And Tyndale theProtestant polemicist had no doubt that the reason the Church wanted a LatinBible in their pocket rather than an English one in the plough-boy's "isnot for love of your souls, which they care for as a fox doth for thegeese."
The swinging door of English history caught both men.Tyndale and More were killed within fifteen tumultuous months of eachother—Tyndale's day at the stake coming a year and two days after his Bibleappeared, and less than a year before it was legally for sale in newlyProtestant England, "set forth with the king's most graciouslicense."
---
Daybook is contributed by Steve King, who teaches in the English Department of Memorial University in St. John's, Newfoundland. His literary daybook began as a radio series syndicated nationally in Canada. He can be found online at todayinliterature.com.