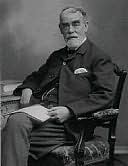 The British novelist Samuel Butler died on this day in 1902. Butler is now regarded as an essential Victorian writer, but his posthumous literary reputation is the inverse of what it was while alive, as he was all too aware. In a late Notebook entry headed "Analysis of the sales of my books," Butler lists the fourteen works he had self-published over the previous quarter century, beside which he charts the steady decrease in sales. The "analysis" is typically contrary and detached:
It will be noted that my public appears to be a declining one. I attribute this to the long course of practical boycott to which I have been subjected for so many years — or if not boycott — of sneer, snarl, and misrepresentation. I cannot help it, nor if the truth were known, am I at any pains to try to do so.
Butler's Notebooks, published a decade after his death, contain a lot of material in this tone. Some observations are well known ("Life is the art of drawing sufficient conclusions from insufficient premises"); some show his skepticism turned upon himself ("[My thoughts] are like persons met upon a journey; I think them very agreeable at first but soon find, as a rule, that I am tired of them"); and many reflect the sort of thinking that made him something of an outcast in his day:
If people like being deceived — and this can hardly be doubted — there can rarely have been a time during which they can have had more of the wish than now. The literary, scientific and religious worlds vie with one another in trying to gratify the public.
Although completed twenty years earlier, his semi-autobiographical The Way of All Flesh was not published until after his death either, this being the prudent course for "one of the time-bombs of literature…waiting to blow up the Victorian family" (V. S. Pritchett). Here are the closing lines, Ernest now done with trashing parents, materialism, religious hypocrisy, etc.:
In politics he is a Conservative so far as his vote and interest are concerned. In all other respects he is an advanced Radical. His father and grandfather could probably no more understand his state of mind than they could understand Chinese, but those who know him intimately do not know that they wish him greatly different from what he actually is.
---
Daybook is contributed by Steve King, who teaches in the English Department of Memorial University in St. John's, Newfoundland. His literary daybook began as a radio series syndicated nationally in Canada. He can be found online at todayinliterature.com.