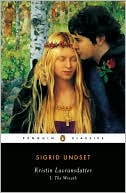 May 20: Sigrid Undset was born on this day in 1882. Undset won the 1928 Nobel Prize in Literature for Kristin Lavransdatter, her three-volume epic of medieval Scandinavia. Until recently, the only English translation of the trilogy was one done in the 1920s by Charles Archer, which not only leaned heavily on an archaic style—"thee" and "thou," "methinks" and "I trow"—but expurgated some sexual and stream-of-consciousness passages. Tiina Nunnally's recent translation for the Penguin Classics series, winner of the Pen/Faulkner award for translated fiction, has triggered a mini-revival for Undset among English readers.
The presenter of the Nobel praised Undset's trilogy as "an Iliad of the North," one which reflects "the ideals of our forefathers—duty and faithfulness." But those ideals do not go unchallenged, and at times Undset's heroine sounds closer to the New Woman of an Ibsen play: "Disobedience is my gravest sin," says Kristin near the end of The Cross, the last book in the series. "All my days I have longed equally to travel the right road and to take my own errant path." In her introduction to Nunnally's translation, Undset scholar Sherrill Harbison says that Kristin Lavransdatter, for all its scrupulous research, is neither saga-bound history nor "misty and nostalgic" Romance, but peopled by those who "might easily be our neighbors or ourselves."
Undset's portrait is on Norway's 500-kroner banknote, but recent events in her homeland have aroused arguments that she deserves more recognition, or that Knut Hamsun, another Norwegian Nobel Laureate, deserves less. Hamsun was such an ardent supporter of the Nazis that he welcomed their occupation of Norway, and even sent his 1920 Nobel medallion to Goebbels as a token of appreciation. When the Norwegian government celebrated the author's 150th birthday with "Hamsun 2009″—a year of public events, exhibits, commemorative coins, a new 27-volume collection of his writings, a $20-million Hamsun Center—some pointed out that Undset, by comparison, was so outspoken against Hitler and for the Jews that the Germans banned her books and, when they occupied her hometown, chopped up her writing desk.
---
Daybook is contributed by Steve King, who teaches in the English Department of Memorial University in St. John's, Newfoundland. His literary daybook began as a radio series syndicated nationally in Canada. He can be found online at todayinliterature.com.