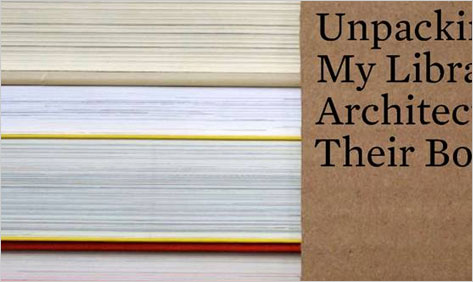 A year or so ago, there was a profile of Louis Auchincloss — a lion in undeserved winter — in The New Yorker. While fascinating for devotees of the novelist-critic and of the New York literary life, it was the photo that gripped. Auchincloss was posed in his Upper East Side apartment in front of some bookcases. The bibliophile could thrill to the recognition of certain volumes and just about deduce titles and sets reflecting a lifetime's engagement with James and Wharton and New York City. It was a delicious morsel that brought me as close to Auchincloss as anything in the profile.
Such voyeurism is at the heart of Unpacking My Library, which examines in detailed photos the libraries of 12 contemporary New York–based architects. In 2006, Jo Steffens heard an architectural historian give a talk about packing and unpacking her books upon her first move to New York City. It gave Steffens the idea of idea of discussing books and collecting with architects and shooting pictures of their libraries. Conceived as an exhibition for Urban Center Books — the architecture and design-oriented bookshop at the Municipal Arts Society of New York — it has now become a book titled after (and including the text of Walter Benjamin's 1931 lecture about the power of individual volumes over the collector: "Every passion borders on the chaotic, but the collector's passion borders on the chaos of memories."
Steffens documents the libraries of Stan Allen, Henry Cobb, Liz Diller & Ric Scofidio, Peter Eisenman, Michael Graves, Steven Holl, Toshiko Mori, Michael Sorkin, Bernard Tschumi, and Todd Williams & Billie Tsien. Each architect (or pair of partners) is given a chapter featuring pictures of their library, a short interview, tight photographic details of specific shelves, and, most wonderfully surprising, a list of the subject's ten favorite books. Receiving multiple mentions are not, as I expected, works by Sigfried Giedion or Palladio or Robert Venturi, but Finnegans Wake, Moby-Dick, Light in August, and Gravity's Rainbow — the last being the only book chosen three times.
Each chapter is a deeply personal intrusion — if in no way an oppressive one — into the subject's artistic life. The books expose the architects' personalities nearly as much as their built projects. I have never cared for Michael Graves's architecture; its strange mélange of historical elements has struck me as cartoonish far more than elegant. But his taste in books makes me think I should look again. His library is an endless flow of Gombrich, deep and broad selections on Corot and Rome, and seemingly every book about Morandi. On a shelf mostly taken up by catalogs of Graves's own work is a beautiful edition of the Lutyens Memorial — the three Country Life–produced volumes documenting the architecture of Sir Edwin Lutyens, a most unexpected influence.
It's a typically revealing moment of this book. As Steffens notes in her introduction, "As you browse the books shown in these pages, a familiar title will spark recognition; an idea or conversation may be recalled." At 8 inches by 5.5, the book is marvelously handle-able, and the best stocking stuffer ever for the bibliophile.