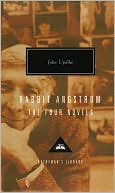 March 18:On this day in 1932, John Updike was born. In a writing career of almost fiftyyears, Updike's five Rabbit booksstand out as a bell tolling, at decade intervals, for Harry "Rabbit"Angstrom and America. As Joyce Carol Oates puts it, the saga stands as Updike's"surpassingly eloquent valentine to his country, as viewed from the uniqueperspective of a corner of Pennsylvania."
That corner is Reading,Pa., where Updike was born, and nearby Shillington, where he lived until age thirteen.In Self-Consciousness, his 1989 memoir,Updike describes himself as a writer "who had all of Shillington to say,Shillington and Pennsylvania and the whole mass of middling, hidden, troubledAmerica to say … some terrible pressure of American disappointment, thatwould take a lifetime to sort out, particularize, and extol with the properdark beauty." Updike was not anticipating writing a series when he began Rabbit, Run in 1959, but Harry had a lotof mileage in him right from the start, judging by Updike's enthusiasm for the writing:
As I sat at a littleupright desk in a small corner room of the first house I owned, in Ipswich,Massachusetts, writing in soft pencil, the present-tense sentences accumulatedand acquired momentum. It was a seventeenth-century house with a soft pinefloor, and my kicking feet, during those excited months of composition, woretwo bare spots in the varnish.
Harry's last run, near the end of Rabbitat Rest, last in the series, is to Florida—Harry believing that evenFlorida is better than Pennsylvania now that the family knows he has slept withhis daughter-in-law. But in Florida, too, he is restless and grumpy: "Onthe evening news half the commercials are for laxatives and the other half forhemorrhoid medicine, as if only assholes watch the news." He tries to readhistory, to feel guilt, and to find God in the perfect golf shot—for Harry,says his son, "is such a fool he really believes there is a God he is theapple of the eye of." Whatever the afterlife for Rabbit, Rabbit at Rest was reviewed by JonathanRaban as "one of the very few modern novels in English…that one can setbeside the work of Dickens, Thackeray, George Eliot, Joyce and not feel thedraft."
---
Daybook is contributed by Steve King, who teaches in the English Department of Memorial University in St. John's, Newfoundland. His literary daybook began as a radio series syndicated nationally in Canada. He can be found online at todayinliterature.com.