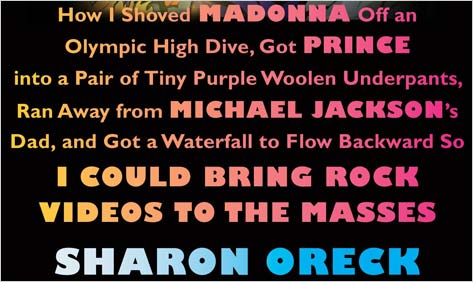 Sharon Oreck has stories to tell you about the sixteen years she worked as a producer of big-time music videos. Like the doves on a Prince video that flew into a large fan and eviscerated themselves. Or the transvestite hookers who shut down a Janet Jackson clip. Or the lion that nearly mauled Madonna during the "Like a Virgin" shoot because the singer was menstruating. Or the time that Tommy Lee of Mötley Crüe offered a grip two thousand dollars to eat a booger.
In Video Slut, she dishes on all these artists, plus Michael Jackson, Chris Isaak, and Mick Jagger. The book is erratic, sometimes repetitive, and frequently derailed by her own autobiography (Oreck had a baby at sixteen and was on welfare before discovering her true destiny as a hard-ass producer), the anecdotes from which have the narrative sheen that comes from having been dined out on for many years and progressively improved with each retelling. You may, for example, enjoy hearing about how Michael Jackson's pet giraffe suffered from diarrhea after eating palm leaves and had to be removed from the family compound when the neighbors complained about the stench, and yet remain skeptical of the details.
Ultimately, Video Slut is a lipstick-smeared valentine to a bygone era. Music videos still get made, and blogs even link to them, but they don't feel as culturally central as they did during the '80s and '90s. Even in their heyday, videos were a disreputable medium: designed to be nothing more than commercials for albums, they sometimes stumbled into being art anyway.
What rings truest here is Oreck's rendering of the characters she meets in the music business: the prima donna artists, the venal executives, the wide-eyed photographers who got converted into directors, the stalkerish assistants competing for the stars' attention. Sometimes Oreck's bluster masks real insight, as with her nuanced take on director Herb Ritts: "It was easy to mistake Herb for a complete doofus: he wasn't articulate, he was obsessed with money, he was inconsiderate of underlings, and he had only one idea. On the other hand, it was a good idea: total perfection."