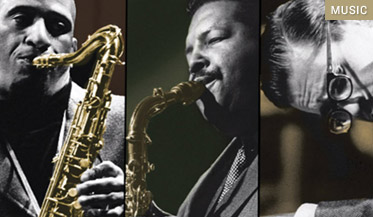 The old nostrum "A picture is worth a thousand words" means little to music lovers of a certain disposition, who require, so they say, no more than the symbolic language of notes and tones to discern the core of an artist's persona. They may be the only market to whom the three DVD boxes that comprise the Jazz Icons series will not appeal.

The producers launched the project in 2006 on the premise that Europe's broadcast archives were chockablock with well-preserved video recordings of never-released concert and studio telecasts from the '50s, '60s, and '70s by seminal American jazz musicians. Contemporaneously, these artists were underrepresented in their native land, as much for reasons of skin tone as for falling afoul of the changing mores of popular culture. The producers set a high standard from the outset; for the first Jazz Icons series — in which nine discs document strong performances by Art Blakey and the Jazz Messengers, Dizzy Gillespie, Louis Armstrong, Quincy Jones, Thelonious Monk, Buddy Rich, Ella Fitzgerald, Count Basie, and Chet Baker — they licensed the programs, paid the musicians or their estates, made meticulous audio and video transfers, and commissioned comprehensive booklet notes from voices of authority. That said, with the exception of two crisp 1960 sets by Jones's "Birth of a Band" Orchestra, the informed devotee will discover nothing new about any of the distinguished protagonists represented therein.

On the other hand, Series 2, from 2007, contains among its eight discs several essential sets, confirming the notion that it is an invaluable experience for the 21st-century observer to witness these artists — in their prime, stars but not yet legends — at work in the trenches. The nuances — facial expressions, body language, and attire, their posture in addressing their instruments, how they connect with bandmates — burnish our sense of who they were, allowing us to connect to them not as disembodied instrumental voices but as three-dimensional personalities in a social context.

Consider the 1958 Duke Ellington concert at Amsterdam's Concertgebouw. The film is a classic of its kind, lit in modulated monochromatic tones with subtlety befitting a 17th-century Dutch still-life painter, replete with lingering closeups of Ellington's singular personnel soloing and interacting in the sections. Another contains three spring 1964 performances in Scandinavia by Charles Mingus's turbulent group, featuring Eric Dolphy, Clifford Jordan, Jaki Byard, and Dannie Richmond, in which the interpersonal relationships within the unit emerge as the music unfolds. One of the three sets on the John Coltrane DVD transpires on a chilly night in Antibes in August 1965, the inflamed-soul quality of the epochal quartet captured in the perfect visual metaphor of bassist Jimmy Garrison and drummer Elvin Jones hard at work, their bodies radiating steam. On two superb sets by the Dave Brubeck Quartet that transcend anything from Brubeck's commercial recordings from the same period, the Belgian and German crews take care to focus on the band's unceasing interplay and communication. There's a vignette of porkpie-hatted guitar legend Wes Montgomery, smoking an endless cigarette, rehearsing a young Dutch trio with kind, avuncular authority. Grand diva Sarah Vaughan, her face filling the frame in voyeuristic detail, sings three bravura sets, and tenor hero Dexter Gordon, suave and intense, does another three in various European venues during the early phase of his 13 years as an expatriate.

Grand spectacle and revelatory details also abound on the eight discs of Series 3, released in 2008, which document performances by Cannonball Adderley, Bill Evans, Lionel Hampton, Rahsaan Roland Kirk, Oscar Peterson, and Nina Simone, all deceased, as well as the indomitable Sonny Rollins. We observe Rollins over the course of a decade within a shifting mise en sc?ne. He is intense, bespectacled, shaven-headed, clad in and suit and tie on a 1959 TV show in Sweden, jousting with a local interviewer before launching a concise, crackling set with bassist Henry Grimes and drummer Joe Harris. A week or so later, he leads a more discursive concert with Grimes and drummer Pete LaRoca in Holland. Jump-cut to 1965, and Rollins is the image of the mid-'60s radical zeitgeist in a black turtleneck and beret, uncorking an extraordinary series of improvisations at Copenhagen's Club Montmartre with bassist Niels Henning Orsted Pedersen and drummer Alan Dawson.

Nicknamed "The Great Dane," Pedersen (1946-2005), one of the all-time bass virtuosos, propels a 1967 date in Norway with Rahsaan Roland Kirk (1936-77), the blind multi-woodwindist who played tenor saxophone in conjunction with manzello and stritch, often creating arrangements that involved blowing all three at the same time. He punctuated his whirlwind declamations with blasts from a bird whistle that hung around his neck, and occasionally interpolated statements on the flute, which he played both with his lips, getting a dry, Serengeti sound, and with his nose, extracting a tone not unlike that of the wooden ur-flutes heard in recordings of pygmy music. Few people under 50 can have seen Kirk in person — for them, the experience of watching him do what he did will be akin, to paraphrase the title of his mid-'70s Atlantic LP, to dealing with a miracle.

Pedersen also joins pianist Bill Evans (1932-81), an omnipresent influence on contemporary jazz vocabulary, on a 1965 performance in France, one of five clips of Evans, joined by various trios, between 1964 and 1975. Famously introspective, Evans plays piano with his head cocked low to the keyboard, a visual image that aptly reflects his nuanced touch and crystalline phrasing, which his equally sensitive partners complement at every turn.

During the '70s and '80s Pedersen played frequently with the Canadian pianist Oscar Peterson (1925-2007), Evans's opposite in tonal personality. Peterson most completely expressed his robust aesthetic, force-of-nature technique, and disciplined approach to ensemble unity in his 1959-65 trio with bassist Ray Brown and drummer Ed Thigpen, here documented in three sets that showcase the unit's synchronicity and energy. It's fascinating to watch Brown triangulate the flow, most notably in an endlessly ascending 1964 performance in Denmark on which he displays the resonant tone, infallible harmonic ear, and unwavering groove that set standards which inspired countless aspirants, including today's bass heroes Dave Holland and Christian McBride.

As much as Peterson subscribed to the let-them-see-you-sweat approach to musical production, he never matched the over-the-top aesthetic of vibraphonist-drummer Lionel Hampton (1908-2002), here seen with his big band in a 1958 swing-to-bop concert in Brussels. Exerting maximum vigor — the way black entertainers did it in the '30s and '40s, when he made his name with Louis Armstrong and Benny Goodman and established himself as a major-league bandleader — Hampton, then 50, transcends the language barrier and entertains his audience, counterstating his smiling visage with cold eyes that see nothing but hard truths.

On another disc, a tuxedoed Julian "Cannonball" Adderley plays two shows with his working sextet in March 1963, speaking with a stilted formality in contrast to the dry, down-home wit that graced his U.S. club performances. On another, singer-pianist Nina Simone plays searing, transformative recitals in Holland (1965) and in London (1968), her face a transparent mask for the emotions expressed in her repertoire — Bob Dylan's "The Ballad of Hollis Brown"; her civil rights shoutout "Mississippi Goddam"; Screamin' Jay Hawkins's "I Put a Spell on You"; "Ain't Got No/I Got Life" from the musical Hair, a subsequent No. 2 hit on the U.K. charts; and her signature song, "Four Women," on which we watch her inhabit each of the four characters conjured within the lyric.

Even the audio purists would have to acknowledge that none of the aforementioned observations would be possible to discern within the two-dimensional space occupied by their medium of choice. Maybe they'll join the throng, and give the Jazz Icons series a shot.