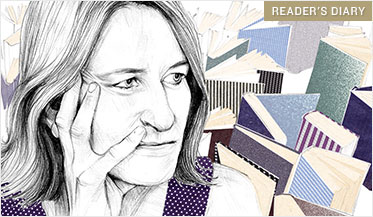 People with a gift for the visual arts tend to be disappointingly inarticulate; far too often our favorite painters seem unable to explain even their most basic creative processes. A notable exception is David Hockney, who has always been willing to bring his lively, questing intellect to bear on his own work. Lawrence Weschler, a longtime staff writer at The New Yorker, first met the artist in 1982 when Hockney was working on his experimental photo collages. The ensuing conversation became an essay and was followed, over the next quarter century, by several others: on Hockney's opera designs, his xerographic prints, his researches into Chinese landscape painting and on the possible use of the camera obscura by the old masters, on watercolor, and finally on his long-delayed return to oil painting.

True to Life: Twenty-Five Years of Conversations with David Hockney

Weschler's True to Life: Twenty-Five Years of Conversations with David Hockney (University of California Press) proves the author to be something of a genius at synthesizing the artist's provocative ideas and presenting them in a highly readable form, illustrating the text with pertinent images wherever they are called for. The book also brings its subject most beguilingly to life. Hockney, Weschler writes, is "an intensely cerebral artist?. He is endlessly struggling with issues of representation, perception, reality, worldview, the transcendence of constrictions," and his career, however meandering it might seem, has actually been "a consistent path of inquiry and exploration." The joy Hockney derives from the physical world, so obvious in his painting, shines through in the conversations Weschler has recorded. "Everywhere I look is interesting," the artist tells his interlocutor. "Heaven isn't far away, it's right there on the surfaces before us."

Hockney was inspired to begin his talks with Weschler after reading the author's 1982 book on the California Light and Space artist Robert Irwin, Seeing Is Forgetting the Name of the Thing One Sees. (Hockney said he disagreed with almost everything in the book but still couldn't get it out of his mind.) Seeing? has become a classic since its initial publication and has now been reissued by the University of California Press as a companion volume to True to Life; the author has expanded it to include six new chapters — encompassing three decades of conversations with Irwin — and 24 pages of color plates.

Weschler describes Irwin's output as "at all times lean, austere, reticent, sometimes almost mute," and judging from the work, he expected the artist to be "a stark, obsessively cerebral creator." Instead he found an ebullient man, as garrulous as Hockney and as deeply concerned with the nature of perception and the art of seeing. "Far from constituting an exercise in nihilist reduction, Irwin's minimalist passion arises in a spirit of zestful affirmation of human possibility," Weschler comments. In an age where reams of solemn nonsense are written on extremely forgettable artists, these two volumes remind us that good art criticism can — and should — open startling new perceptual avenues for the reader.

Francis Bacon: Anatomy of an Enigma

Seeing the magnificent Francis Bacon retrospective at the Metropolitan Museum sent me in search of more information on this most mysterious character, and in the museum shop I picked up Michael Peppiatt's recently revised biography, Francis Bacon: Anatomy of an Enigma (Skyhorse Publishing). Peppiatt, who in youth was a protégé of the artist, admits in his introduction that while writing the first version, "I was still under the direct influence of Bacon's magnetic and controlling personality. With greater hindsight, I still feel his presence but I am less in awe and more capable, I trust, of seeing him and his achievement in the round, from differing angles, and in the context of his times."

Peppiatt succeeds in providing a marvelous glimpse of those postwar times in London, within whose bohemian precincts the upper-class, Anglo-Irish Bacon succeeded in reinventing himself both as a painter and an outrageous personality, "a past master at slipping from one situation, one social level, to another, and at being many things to many people." Reading Peppiatt is almost as good as accompanying the artist on one of his famous pub crawls (and certainly safer), for "the painter of high tragedy," the author tells us, "was also a virtuoso of high farce, and after a tirade about the nothingness of life he would topple existential despair with one camp remark." As the Met retrospective demonstrated, seventeen years after Bacon's death critics are still in wide disagreement on his importance and his eventual place in the canon, and the horrific images that shocked gallery-goers back in the '50s and '60s do not always have the same effect now. But Peppiatt convinced me, at any rate, that "as we move into another troubled century, Bacon's vision seems less and less concerned with violence and horror and increasingly with a passionate, penetrating search for truth — about what we really are and how we feel in our modern frailty and confusion."

7 Reece Mews: Francis Bacon's Studio

Another book I picked up at the show — well, to be frank I picked up four or five copies to stash away as Christmas gifts for some of my sloppier friends — was 7 Reece Mews: Francis Bacon's Studio (photographs by Perry Odgen and foreword by John Edwards; Thames and Hudson). Plenty of artists' studios are messy but Bacon's was in a class of its own, so spectacularly foul that after the artist's death (and after Ogden's careful photographic recording of the space) its contents were removed for reassembly in the Hugh Lane Municipal Gallery of Modern Art in Dublin. Layers upon layers of spilled paint, pigments ground into the floor, books and papers and photographs and drawings underfoot, dust and muck, garbage and rejected paintings meet the viewer's gaze, as well as kitchen and sleeping arrangements remarkably spartan for a painter who, toward the end of his career, was receiving several hundred thousand pounds per canvas. Aside from an occasional muck-out when the clutter got so dense as to impede his work, Bacon refused to clean up; he seemed comfortable there and able to lay a hand on whatever he needed. "Where more orderly artists went to their bookcases to look for a reference or an image," Peppiatt says, "Bacon dredged through the layers of photos and reproductions underfoot." Sometimes he even mixed dirt off the floor into his paint to achieve some particularly elusive shade of gray.

On Paradise Drive: How We Live Now (and Always Have) in the Future Tense

Though David Brooks's political editorials in The New York Times often irritate me, as a cultural critic he can hardly be beat. His Bobos in Paradise, by now justifiably a classic, brutally skewered the so-called Bourgeois Bohemians. On Paradise Drive: How We Live Now (and Always Have) in the Future Tense, first published in 2004 and now available from Simon & Schuster Paperbacks, explores our nation in the wake of what Brooks calls "the Great Dispersal" to the suburbs. A majority of Americans now live in suburbs or exurbs, twice as large a proportion as a half century ago, and the population shift continues. "How many times in human history have two-hundred-thousand- or five-hundred-thousand-person communities materialized out of practically nothing in the space of a few years?" he asks. "What sorts of institutions get born there, and what sorts of people emerge?"

Brooks can be absolutely hilarious, and he is at his wicked best when riffing on peculiarly American phenomena such as Ubermoms or lifestyle magazines (as well as non-American ones, like pompous French intellectuals). But however many snarky digressions he makes, he never loses sight of his major theme, which is that undercurrent of our national psyche that has hardly changed since Tocqueville and Crèvecoeur described us two centuries ago: a compulsion Brooks has dubbed the Paradise Spell. "We may not all be chasing the same thing," he observes, "but we are all chasing something. What defines us as a people is our pursuit, our movement, and our tendency to head out." Evenhanded both in his rancor and his generosity, Brooks places our moment of what seems to be unprecedented cultural upheaval into the larger context of our history and national destiny.