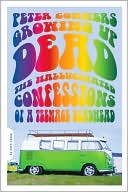 The Volkswagen minibus went into production on this day in 1950, and Bill Graham's Fillmore East opened on this day in 1968. The two events meet at the American counterculture, the Fillmore(s) providing the rock, the VW providing the roll, especially for Deadhead Nation:
Shasta's VW was not a van because a van didn't carry the Deadhead significance of a bus. In Grateful Dead history, the Merry Pranksters drove a 1939 American Harvester school bus named Furthur across the country with Neal Cassady at the steering wheel. As a result, many Deadheads named their vehicles in honor of that tradition. A van, or bus, to a Deadhead is as important and personal as a horse to a cowboy, or a camel to a Bedouin Deadheads lived (got to the show) and died (didn't get to the show) based on their vehicles. They also slept, ate, had sex, conducted business — lived — in their vehicles. So vehicles were personalized accordingly. Our family lived in "The Bus." And we always danced extra hard during "The Other One" when Bobby [Weir] spat out: "The bus came by and I got on, that's when it all began. There was cowboy Neal at the wheel, the bus to Never-Never land."
The above is excerpted from Peter H. Conners's memoir Growing Up Dead. In his final "We Will Survive" chapter, Connors offers an updated portrait of a group of aging, mortgage-and-kids Deadheads having a few Saturday night beers at their local roadhouse. Nobody's pretending they're at the Fillmore or that they don't now drive minivans; but they are still "sonically engaged," even grateful "that, after all this time, the Dead have circled back to Magoo's Pizza Parlor" (site of their first concert gig):
This is where it all began. The music has been liberated from the projection screens and glaring lights of the main stage that it evolved to along the way. There are no such frills here. Only the notes, the lyrics, and the songs. The music is back where it belongs. The music is with us.
---
Daybook is contributed by Steve King, who teaches in the English Department of Memorial University in St. John's, Newfoundland. His literary daybook began as a radio series syndicated nationally in Canada. He can be found online at todayinliterature.com.