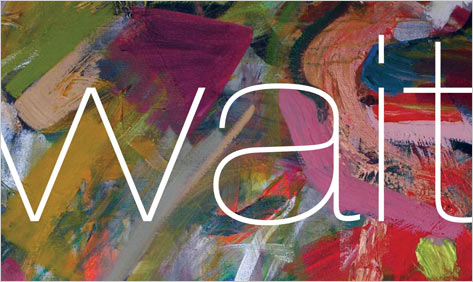 National Book Award and Pulitzer Prize-winning poet C.K. Williams's seventeenth and newest book, Wait, may well be his strongest, a masterwork of consciousness and conscience.
If that someone who's me yet not me yet who judges me is always with me,
as he is, shouldn't he have been there when I said so long ago that thing I
said?
The book's first half offers one brilliant poem after another. Williams's characteristic long-breathed line is at its most sinuously graceful, and well-balanced. These poems turn from subject to subject—desire, past and present; rural and city life; the works of fellow poets from Coleridge to Hopkins to Celan. They are, quite literally, matters of life and death, as in the beautifully observed "Blackbird":
…but I saw him behind on the roadbed,
the shadowless sail of a wing
lifted vainly from the clumsy
bundle of matter he'd become.
Death casts its shadow over all, not so much a darkness as a coloration:
Another drought morning after a too-brief dawn downpour,
uncountable silvery glitterings on the eaves of the withering maples—
I think of a troup of the blissful blessed approaching Dante,
"a hundred spheres shining," he rhapsodizes, "the purest pearls….,"
then of the frightening, brilliant, myriad gleam in my lamp
of the eyes of the vast swarm of bats I found once in a cave,
a chamber whose walls seethed with a spaceless carpet of creatures…
his with no vision of celestial splendor, no poem,
mine with no flight, no unblundering dash through the dark,
his without realizing it would, so soon, no longer exist,
mine having to know for us both that everything ends,
world, after-world, even their memory, steamed away
like the film of uncertain vapor of the last of the luscious rain.
Wait manages to be both grounded and ethereal, and therein lies its power. True, an occasional poem tangles in its own syntactic convolutions—"that this entity has a voice with which it can, or least could once, speak, and in a possibly historical/ but credible even if mythic past it did speak, to a small group of human beings,"—but such stumblings are rare. Wait is a gorgeous book, more airborne than the poet realizes:
Must I always
forever and ever
be me? Without wings? O butterfly, without Issa?
Without wings?"
Wait deserves to be, and no doubt will be, highly prized—and beyond that, treasured.