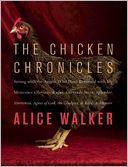 Alice Walker was born on this day in 1944. Walker continues to publish in many genres and to devote much of her time to social and political activism. She followed her 1983 Pulitzer winner, The Color Purple, with In Search of Our Mothers' Gardens, her first nonfiction collection, in which she linked the novel's creative-combative spirit to a "womanist" agenda: "Womanist is to feminist as purple is to lavender." Walker's latest nonfiction book, The Chicken Chronicles, is a meditation-memoir provoked by her relationship to the handful of chickens that roam her garden in California. She is "Mother" to her "girls" and tends them as family; but they are also "angels" sent to reconnect her with her "severed memories."

The memories are mostly of Walker's impoverished childhood — of the chickens and hogs her family raised and slaughtered, of her steadfast father behind his plow, of her resilient mother, who cultivated beautiful gardens and wallpapered her bedroom in "the final and most wretched of all the gray shacks" with flattened cardboard boxes and brown butcher's paper. Recalling a chicken's severed head, feeling the impression of it in her hand, leads Walker to revisit the trauma of losing an eye at age eight, and to think that "it was her own head that she lost the day she was injured." Having "lived that way for many years, headless, though no one around her at the time seemed to notice," Walker reflects on the millions of maimed children worldwide that go similarly unnoticed:
Mommy believes…that when small children are injured they do in fact leave their bodies. She thinks of children she sees around the world who have lost arms and legs and eyes and hands and parts of their faces (trauma deliberately inflicted by others); she knows from experience that they are no longer really there, though their bodies remain…. Mommy thinks, in that far elsewhere place the child's spirit roams, it becomes unstuck from humanity, and terrible things are done, almost as if the human, who is now adult, is fast asleep. What happened to Idi Amin, Mommy wonders? Saddam Hussein? Hitler and his imitators? The torturers of Abu Ghraib? Men who stone women? People who cage animals for years on end, or, in the interest of "science," murder and dissect them? What happened to elected officials who say yes to bombing people…?
---
Daybook is contributed by Steve King, who teaches in the English Department of Memorial University in St. John's, Newfoundland. His literary daybook began as a radio series syndicated nationally in Canada. He can be found online at todayinliterature.com.