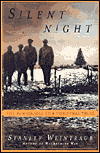 December 25: On this day in 1914 the "Christmas Truce" of WWI, tentatively and spontaneously begun the previous evening at many places along the Front, held. This meant a day of anything from conversation to gift giving to soccer games to dining out:
We ate their Sauerkraut and they [ate] our chocolate, cakes, etc. We had killed a pig just behind our lines. There were quite a lot of creatures rambling about the lines, including an old sow with a litter and lots of cattle…. We cooked the pig in No Man's Land, sharing it with the Boche.
This recollection and many others are in Silent Night, by historian Stanley Weintraub. In the following passage, Weintraub quotes the memoirs of the famous British soldier-cartoonist of trench life, Bruce Bairnsfather:
Even after the extraordinary Christmas Eve, soldiers were astonished by what they saw at daylight on Christmas Day. "I awoke at dawn," Bruce Bairnsfather recalled, "and on emerging on all fours from my dugout, became aware that the trench was practically empty. I stood upright in the mud and looked over the parapet. No Man's Land was full of clusters … of khaki and gray … pleasantly chatting together.
---
Daybook is contributed by Steve King, who teaches in the English Department of Memorial University in St. John's, Newfoundland. His literary daybook began as a radio series syndicated nationally in Canada. He can be found online at todayinliterature.com.