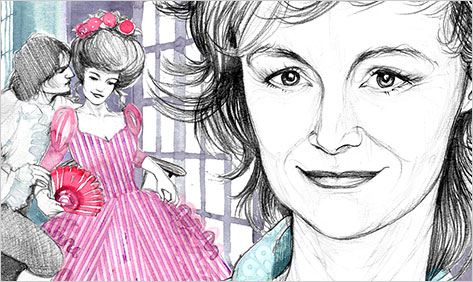 My father's idea of bedtime reading was rousing tales of King Arthur and his Round Table, which meant that I often dreamed of men who spent their lives beheading stray dragons and romancing errant maidens. A few years ago I came to the belated conclusion that his enthusiastic renditions of Sir Gawain and the Green Knight were the reason that I love romances set in the Wild West. On one side, you have a knight on a horse; on the other, a gunslinger on a horse. Both cavaliers fiercely adhere to a personal code, but one of them is a spitting, chewing, drinking, hard-assed bad boy, and the other…isn't. To my mind, the key to a Western is the lack of rigid law on the frontier, which allows the hero's personal, unwritten code of honor to take center stage: it is the most important thing in the world to him (and to the story), and nothing, especially not a woman, can lead him to break it.
Genuine Westerns are, sadly, hard to find these days. Kaki Warner's Pieces of Sky is one of those rare beasts. A romance set in New Mexico Territory, 1869, it features a classic Western setting and a riveting, deeply emotional plot. Jessica Thornton has fled England in an attempt to find her brother in the rough and tumble of the American west. Her frilly hats and sharp tongue put her at odds with Brady Wilkins, a cowboy with eyes like turquoises (or pieces of sky). This novel pays deep, loving attention to the details that identify a cowboy; Brady's voice retains "a husky quality as if the dry climate had eroded the mellower tones, leaving him permanently hoarse…Like a whisper in the dark." But the heart of a cowboy is not his blue eyes or his husky voice. It's his idea of honor. And when Brady decides he is honor-bound to send Jessica back to England, his sturdy sense of rightness forces her to leave, though the resulting anguish strains his claim to stoic manhood. But what is right? A man's conviction about the right thing to do — or the way Brady and Jessica feel when they're together?
These days the newest frontier is not the Wild West, but the steampunk wildernesses found in novels forged from an odd combination of Victorian inventions and historical fact. Steampunk is a genre set in an alternate 19th century, a steam-powered fantasy version of Victorian England, for the most part (apparently Western steampunk exists, though I haven't seen any such romances). Liz Maverick's Crimson & Steam is set in a future L.A. crowded with vampires, but the origins of that wild frontier city come from a steamy speculative past. Maverick deftly meshes two storylines, one futuristic and one Victorian, by tying a human reporter, Jill, together with a vampire leader, Marius. Marius is perceptibly a Western hero, albeit a more violent version than Brady. Rather than a cowboy, he's a gunslinger who draws first and asks questions afterward. One crucial element of all this month's books comes from the very nature of the Western hero: he's a man who knows his own mind. These heroes don't wonder whether they're in love: they know it. They simply refuse to act on such an unimportant emotion. When Marius announces "My life is not my own to give," choosing his "damn honor" and his duty above Jill, his inner cowboy comes out. Like Brady, Marius's code clashes with the most important thing in his life. The result is a thrilling, delicious romance that gives a paranormal twist to the question of honor.
Christine Feehan's Street Game takes place in a wildly different, if also paranormal, America, in which soldiers with enhanced DNA roam the streets taking out bad guys. Mack McKinley and his team of GhostWalkers practice urban warfare, putting their mission — and their honor — above all else. That "all else" includes Jaimie, the woman Mack loves. She used to be a member of their team, but when she asked him for commitment two years ago, he told her bluntly that his drive to save the world came first, and she vanished. When Mack encounters Jaimie during a middle-of-the night raid, he begins to realize that his sense of honor may have been misapplied. Two years ago, he had balked when Jaimie pointed out that the male world he inhabited, and the orders he faithfully followed, might not be the most honorable — that his blind affinity to duty might not be the smartest choice. As Jaimie tells him, he'd "charge hell with a bucket of water." The hardest thing for Mack to acknowledge is that honor is more complicated than following through on a mission without losing a man. Like the other heroes in this column, his fixation on honor stands to leave him a very lonely man.
If Mack's loyalties may be misplaced, the hero of Ava Gray's Skin Game doesn't seem to have any. Reyes is an anti-hero, a killer for sale to the highest bidder. The fact that his current boss, Gerard Serrano, is a criminal casino owner doesn't bother Reyes, a roving mercenary killer with the lanky legs and laconic voice of a cowboy. He has forged a personal code of honor that drives him to finish any job he takes on, although he'll only kill those who deserve it. Mercy, or any other sort of tender emotion, has never deterred him, at least until Serrano hires him to fetch his former girlfriend Kyra and the cash she stole — and to deliver her dead or alive. Mack does find Kyra, and even manages to figure out her fascinating ability to con anyone she encounters. But does he have the courage to realize that a code of honor is only as good as the intent behind it? What would it mean if he betrayed Serrano and saved Kyra? When Reyes capitulates, admitting to Kyra "you are my beating heart," he pulls the string at the heart of a Western hero's code of honor. Blind adherence to unwritten laws is easier than compromise. Yet honor alone may leave a man riding over the horizon on his horse, alone.
I've strayed a long way from the American West, and Courtney Milan's Proof by Seduction seems the farthest from those dusty plains. Her hero is Gareth Carhart, Marquess of Blakely, and the story plays out in the ballrooms of pre-Victorian England. However, Gareth is immediately recognizable as a lone wolf — one who would prefer to spend his time tracing swallow migration routes in Brazil, but is forced by a rigid code of honor to stay in England. On the other hand, Jenny Keeble, a down-on-her-luck fortune-teller in a bright gypsy costume, seems to have jumped right out of a Western novel. Proof by Seduction is a debut, and I've rarely read a first novel with characters this deep and vivid. Gareth is slowly dying of the loneliness induced by his adherence to the chilly, soulless code of behavior he learned from his grandfather. Like the other men I've been discussing, Gareth hangs onto the superiority generated by adherence to an internal code of honor — even when it imperils his happiness.
Honor is a double-edged sword in these novels: a weapon that can inform the best of decisions, yet nonetheless isolate the best of men. Whether he lives in L.A. or London, each hero learns that he risks becoming, in Gareth's words, "the world's most gigantic ass" if he can't accept that love is more important than a private code, written or unwritten. The good news for readers is that whether he calls himself Gawain, slaps on a cowboy hat, or sinks his teeth into the enemy, the hero immortalized in High Noon and Shane can still be found riding out (or in) to town.
---
If you'd like to discuss romances featuring a Wild West — whether that wilderness is actually American or not — please stop in to chat with Eloisa James in the Romantic Reads Book Club, where she'll be joined by Kaki Warner and Courtney Milan. Please do check out Eloisa's past columns in the Archives, and if you'd like to get her reaction to romances as she reads them, follow her on Facebook or Twitter. If you'd like a peek at Eloisa's own romances, please visit her web site at www.eloisajames.com.
And don't forget the Barnes & Noble daily romance blog, Heart to Heart, where the fabulous Michelle Buonfiglio chats about the hottest news in the world of romance, from favorite authors to scorching love scenes.