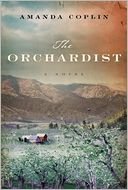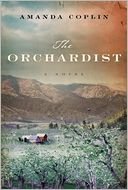 Dear Reader,
The Discover selection committee readers aren't the only people who are crazy for Amanda Coplin's debut novel, The Orchardist, a Fall 2012 pick.
"You will be lured at first by the lushness of the language, the vividness of the descriptive passages, but soon enough–before you've finished the first chapter–the characters will take hold of you and you'll read on hungrily, as if under a spell….[A] masterful writer, the teller of an epic, unvarnished tale that sits comfortably with other novels in the tradition of great American storytelling, says Wally Lamb.
"Eloquent…moving" (Publishers Weekly, starred); "Majestic" (The Washington Post); "Engaging and enthralling" (The Seattle Times); "Stunning…poetic…hums with life" (The Portland Oregonian).
Amanda Coplin discusses writing about the natural world, the evolution of central Washington State's landscape, and how loss and longing inform The Orchardist's narrative, among other things, with Discover Great New Writers.
Your novel is set in central Washington State at the turn of the 20th century, near the area where you yourself grew up. If you were to go to Talmadge's property today, describe what you would see.
In the last century and a half, a lot has changed in that part of the country. At the same time, certain areas, in the deep forest flanking the Cascades, for example, have changed hardly at all. I remember hiking with my family in the Wenatchee Wilderness area as a child and coming upon a decrepit cabin that was so old that it seemed to have become part of the landscape itself. It had been there for maybe a hundred years. No one had torn it down, it had not disintegrated; it had just stood there empty all those years. And so maybe Talmadge's cabin would be a relic like that, empty but still standing.
But more likely that cabin would be long gone, and replaced by a small, contemporary home, and surrounded by a more uniformly cultivated landscape. These new people would have a satellite dish, and neighbors. That would be a difference; there wouldn't be that same depth of forest surrounding them that Talmadge would have experienced, that same sense of solitude. And there wouldn't be horses coming out of the trees, but maybe teenagers on ATVs, in the winter.
The central character, Talmadge, is a loner with a warm heart. What inspired this character?
My grandfather. He and my grandmother owned apple, cherry, and pear orchards just outside of Wenatchee, and my cousins, brother, and I spent a lot of time there as children. Talmadge shares my grandfather's quiet demeanor, his intense work ethic, his sense of humor. I can see a lot of my grandfather in Talmadge, and to certain degrees my own father and brother. But, ultimately, the character is distinct from the person. Talmadge became an individual over time, with his own history and identity.
How does the disappearance of Talmadge's sister and the death of his mother in the beginning of the book influence his later response to the two sisters?
I think Talmadge experiencing loss at such an early age created in him an intense kind of need, one of the most basic needs of all: for human companionship. Also, in losing his sister, he was without someone to care for, which is another human need; he was responsible for her, and failed her. The fact that we never find out what happened to her—Talmadge never finds out—only agitates the wound. Despite the years that have passed, he has still not healed. And so that makes the introduction of the two girls in the latter part of his life particularly significant; his reaction to them is exaggerated because of this earlier experience of loss.
People have commented that the landscape is almost another character in the novel. What draws you to nature and enables you to imbue it with such palpable clarity and beauty?
Spending so much time in my grandparents' orchard had a major effect on my imagination. I not only played in the orchard and spun elaborate games with my brother and cousins, but I also spent time by myself, often with a book in hand, and wandered through the aisles, and read. My love of language developed with my love of the trees, and with silence and solitude.
In time, and especially during the writing of this novel, my own intense childhood experience in the orchard caused me to reflect on the symbiotic relationship between a person and their landscape. The physical environment isn't just a stage on which human drama plays out; there is a very real organic as well as spiritual relationship between a person's interiority and the earth, sky, and weather which surrounds them. Our dreams, hopes, and fears take shape from material of the natural world. It is a part of us; we need the landscape to imagine as well as to physically survive.
Talmadge has an Orchard. Do you have a favorite kind of apple?
The last few years I've grown fond of the Honeycrisp apple, cultivated in Minnesota. It's a delicious snacking apple, firm and sweet and a little tart. I'm also partial to Granny Smiths, an apple originally cultivated in Australia but made popular in the States by Grady Auvil, an orchardist from Orondo, Washington.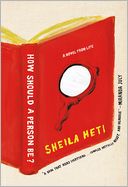 Who have you discovered lately?
The last really striking book I read was Sheila Heti's How Should a Person Be? There has been such a critical hullaballoo surrounding it, and I thought, well I'm going to read this book by this woman who is my contemporary, and see what the fuss is about. I was impressed by the risks she took, structurally and thematically, and while I agree with several of the criticisms aimed at the work, something about its spirit has stuck with me. I think it is a vibrant, brave, earnest book. I definitely look forward to what Heti does in the future.
Sheila Heti's novel has a relationship, in my mind, with work of other writers I've read in the last few years and loved, especially Joanna Kavenna, Celine Curiol, and Lore Segal.
Cheers, Miwa
---

Miwa Messer is the Director of the Barnes & Noble Discover Great New Writers program, which was established in 1990 to highlight works of exceptional literary quality that might otherwise be overlooked in a crowded book marketplace. Titles chosen for the program are handpicked by a select group of our booksellers four times a year. Click here for submission guidelines.