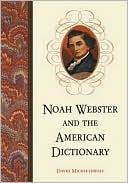 April 14: On this day in 1828 Noah Webster published his American Dictionary of the English Language, introducing some five thousand new words and authorizing various categories of non-British spellings. Webster's book drew scorn from traditional- or colonial-minded lexicographers, and not all his advocated changes — for example, "ake" (ache), "thum" (thumb), "fether" (feather) — took root in everyday usage. But many agreed with his politics (a Federalist is "a friend to the Constitution of the U. States"), his prudery (not a fart or turd), and the general agenda made clear in his Preface:
The United States commence their existence under circumstances wholly novel and unexampled in the history of nations. They commenced with civilisation [this changed to civilization in the Dictionary itself], with learning, with science, with constitutions of free government, and with that best gift of God to man, the christian religion.
Samuel Johnson's Dictionary of the English Language has its 255th anniversary tomorrow. Webster acknowledged the general importance and influence of Johnson's work, but he quarreled with many specifics, finding the definitions "deficient in precision beyond anything I could have imagined." No doubt Webster had such words as patron in mind: however sympathetic Webster the American, Webster the lexicographer could not accept "a wretch who supports with insolence, and is paid with flattery." The famous definition, and the famous story of its origin, reflect Johnson's wit and quirky personality. When close to completing his nine years' work on the Dictionary, and long after making his appeals, Johnson had finally received an offer of financial help from Lord Chesterfield. His reply now stands as a definition of Johnsonian style:
…Seven years, My Lord, have now passed since I waited in your outward rooms or was repulsed from your door, during which time I have been pushing on my work through difficulties of which it is useless to complain, and have brought it at last to the verge of publication without one act of assistance, one word of encouragement or one smile of favour. Such treatment I did not expect, for I never had a patron before. …Is not a patron, My Lord, one who looks with unconcern on a man struggling for life in the water and, when he has reached ground, encumbers him with help? The notice which you have been pleased to take of my labours, had it been early, had been kind, but it has been delayed till I am indifferent and cannot enjoy it, till I am solitary and cannot impart it, till I am known and do not want it….
---
Daybook is contributed by Steve King, who teaches in the English Department of Memorial University in St. John's, Newfoundland. His literary daybook began as a radio series syndicated nationally in Canada. He can be found online at todayinliterature.com.