Once upon a time 'self-published' was synonymous with 'self-indulgent.' Novice writers were duped into spending small fortunes in order to have their novels published in book form. More often than not, once a writer's cousins and great-aunts had been manipulated into buying a copy, the hundreds (or thousands!) left over simply moldered in the author's garage.
Enter the Brave New World of digital publication. Suddenly anyone can pull together cover art and slap her or his words up in cyberspace. And it's not just for those who for whatever reason can't be published by a traditional house. Bestselling authors have leaped whole-heartedly on the self-pubbing train. It offers the chance to explore themes and settings New York publishers can't or won't touch — and it gives writers a sense of control over their own careers.
But what's in self-publishing for readers? The market is awash with new titles—some breathtaking, some of the boxed-in-the-garage variety. How is a reader to know the difference between delight and dreck?
That's where Love Rocks comes in. On a bi-monthly basis, we'll be visiting with you here about the new world of self-published romance. We'll introduce exciting, fresh voices. We'll bring you news of your old favorites and help you discover new ones. We'll let you know which authors are reissuing their beloved backlists and which are delivering new stories in eBook format. We hope to discover that genuine gemstone for you among all the cubic zirconia.
Who's we? I hear you asking.

We're the writers from Rock*It Reads, a collective of authors — all published with New York based publishing houses — that includes Vanessa Kelly, Pamela Clare, Cheryl Holt, Elisabeth Naughton, Monica Burns, Kris Kennedy, Margo Maguire, Lila DiPasqua, Sharon Page, Joan Swan and me—Mia Marlowe. We have New York Times bestsellers and award winners in the group as well as debut authors. Rock*It Reads represents all of the wonderfully various stories that appear under the romance genre—including contemporary, historical, paranormal, and romantic suspense, among others. Our new eBook brand, Rock*It Reads, is your assurance that a great reading experience is in store.
But we won't be promoting our own books here at Love Rocks. If you're interested in our work, both self and traditionally published, we invite you to visit our website at rockitreads.com. For Love Rocks, we're switching hats. Because, in addition to being writers, we're all voracious readers. And we love to share when we've discovered a new favorite author.
Statistics prove most people buy books based on the fact that they've already read and enjoyed the author. But the second most common reason for buying a book is because a friend recommended it. We hope you'll come to consider us here at Love Rocks your friends when you're looking for your next reading suggestion.
Of course, we're interesting in hearing what you think too. Please be sure to set up a B&N account so you can add your comments to the discussion (If you don't have one, you can get started by going to the link in the top right-hand corner of this page and clicking on Register.) We look forward to your insights and opinions.
In the meantime, fire up your e-reader and get ready to fill it with some great new reads. Our first reading recommendation comes from my friend, Monica Burns. Monica's sexy historical romance Pleasure Me was honored with an RT Reviewers Choice Award at the recent RT BookLovers Convention in Chicago. I can't wait to hear what self-pubbed jewel she's uncovered for us!
---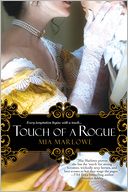 A classically trained soprano, Mia Marlowe describes her books as Gilbert and Sullivan…with sex! Her recent release, Touch of a Rogue, was named one of Publishers Weekly's Top Ten Romances for Spring 2012. Her website is miamarlowe.com.