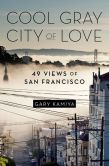 The term "beatnik" was coined on this day in 1958 by Herb Caen in his column for the San Francisco Chronicle. Caen said that "the word popped out," a flip comment inspired by the recent Sputnik launch, though the context and tone of the coinage reflect the Beat-bashing then current:
Look magazine, preparing a picture spread on S.F.'s Beat Generation (oh, no, not AGAIN!), hosted a party in a No. Beach house for 50 Beatniks, and by the time word got around the sour grapevine, over 250 bearded cats and kits were on hand, slopping up Mike Cowles' free booze. They're only Beat, y'know, when it comes to work….
In Cool Gray City of Love (2013), Gary Kamiya's "love letter" to the people and places of San Francisco, Herb Caen is described as "The Chronicler," his daily column "a living link to an almost mythical age":
He brought a deadline poetry to the life in the streets, the roistering and gossip and tragedy of 700,000 lives. His daily column was the city's agora, its Roman forum. The scoops, the sparkling one-liners, the praise and derision, and the endless dish he served up brought the city's people together, if only for 10 minutes over cup of joe. But Caen was much more than the world's greatest gossip columnist: He was also a razor-sharp wit, a shrewd commentator on civic and national affairs, and an unabashed fan of his beloved city, whose set pieces celebrating San Francisco were way too good for a guy crashing daily deadlines. Think Walter Winchell crossed with Jon Stewart, with a little Anthony Lewis and Lawrence Durrell thrown in.
---
Daybook is contributed by Steve King, who teaches in the English Department of Memorial University in St. John's, Newfoundland. His literary daybook began as a radio series syndicated nationally in Canada. He can be found online at todayinliterature.com.