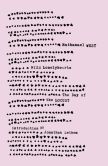 Nathanael West's The Day of the Locust was published on this day in 1939. Although now ranked with F. Scott Fitzgerald's The Last Tycoon as one of the best novels about Hollywood, and on the Modern Library's Top 100 of the Century list, The Day of the Locust had mixed reviews when it came out and was a commercial flop. So were Miss Lonelyhearts and West's two other novels, compelling him to continue working as a screenwriter and living in the Hollywood that his novel so darkly satirized.

West's target, unlike most attacks on Hollywood, was not the glitz and sleaze of those atop the "dream dump" or even the squalor of the movie nether-world — "the old sets on a back lot, like the paintings by Dali, the extra girls, beautiful, hard-pressed, sleeping four in a tiny room dreaming of stardom, brokendown vaudevillians and ancient comics in their special barrooms, where they work over old routines…." He wanted instead to capture the infrastructure, the entire Hollywood culture of "screwballs and screwboxes."

In religion, West's satire targeted worshippers at the "Church of Christ, Physical," hoisting chest weights and flexing spring grips; or at the "Tabernacle of the Third Coming," where they joined the "Crusade Against Salt"; or at the glass-and-chromium "Temple Moderne," which taught "Brain-Breathing, the Secret of the Aztecs." Turning to the city's "great bonfire of architectural styles," West described the faux pagodas, castles, casinos, chateaus, chalets, beach-huts, and haciendas in which such people huddled and became desperate. West's gallery of has-beens, would-bes, and think-they-ares ranges from a "Dr. Know-All Pierce-All" to a dangerously simple hotel clerk named Homer Simpson to a horde of disenchanted ordinary people who bought furniture "painted to look like unpainted pine" and costumed themselves for daily living:
Their sweaters, knickers, slacks, blue flannel jackets with brass buttons were fancy dress. The fat lady in the yachting cap was going shopping, not boating; the man in the Norfolk jacket and Tyrolean hat was returning not from a mountain, but an insurance office; and the girl in slacks and sneaks with a bandanna around her head had just left a switchboard, not a tennis court.
---
Daybook is contributed by Steve King, who teaches in the English Department of Memorial University in St. John's, Newfoundland. His literary daybook began as a radio series syndicated nationally in Canada. He can be found online at todayinliterature.com.